Best Text To Speech Book Readers 2023
Not everyone has time to sit down and read a book in peace in front of a computer. Use text to speech ebook readers, as such a program will read aloud to you. In the meantime, you can do yoga, clean or cook. So convenient!
In this article, we reviewed 3 various ebook readers with built-in TTS (text to speech) function.
1. Icecream Ebook Reader - text to speech ebook reader for Windows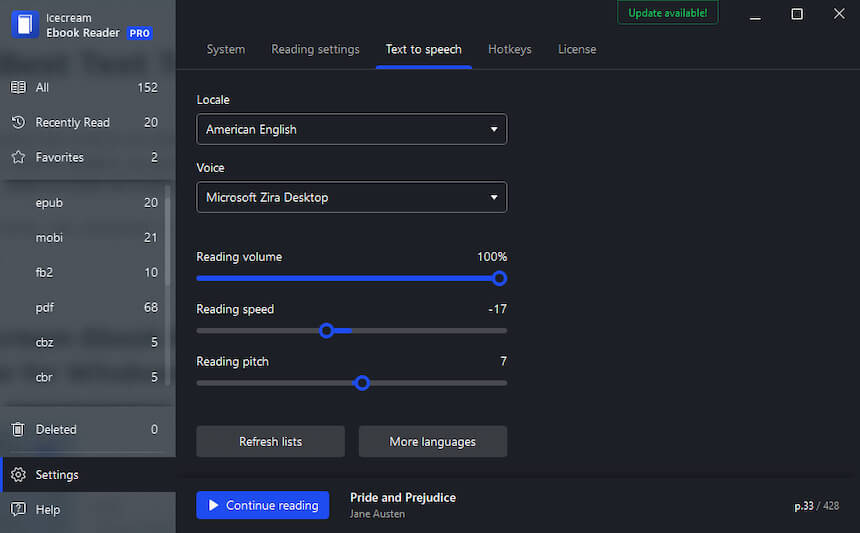 This is an ebook reader for PC that supports many different formats: ePub, [MOBI](/5-ways-to-open-mobi-files.html, FB2, PDF, CBZ, CBR, TXT. A beautiful and user-friendly interface will not cause difficulties even for a novice user. Extensive settings help the user to customize the text to speech ebook reader. For example, customize the theme. Make it dark or white. It is also possible to place one or two pages on the screen for more comfortable reading.
In addition to the color and text settings, you can control the voice pitch, volume, and pronunciation speed when using the text to speech feature. The software gives the user the ability to listen to foreign books and entertainment titles. The user can also choose between male and female voices of different tones, which also makes getting to know educational literature more enjoyable and memorable.
There are also such notable features as the ability to add notes and highlight text in the electronic books of ePub, MOBI, FB2 and TXT formats.
This Windows ebook reader does not take much space and works even on outdated PC models. This versatile software is handy not only for lovers of reading, but also for ordinary users to view electronic book files.
2. NaturalReader - cross-platform ebook reader app with the text to speech feature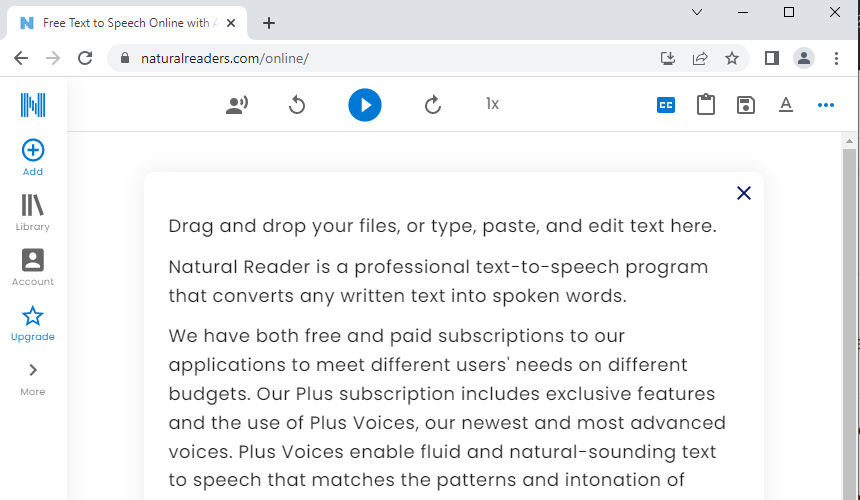 This is a fairly well-made text to speech reader for various OSs. It can work online, can be added to Google Chrome as extension and there's an Android app, too. It has a simple and clear interface with a small number of settings. This ebook reader supports many text file formats and is dyslexic friendly.
The major feature of the TTS reader is the ability to purchase additional voices from the online library. Various voice packages (male, female) in different languages of the planet are collected here. Another difference of the software is the OCR support. The program easily recognizes scanned text and screenshots, for example from electronic book readers. What concerns using PDF format, NaturalReader retains their original formatting, which makes the use of the text to speech reader even more convenient. The built-in editor allows to change the pronunciation of a particular word.
NaturalReader official website ->
3. Balabolka - completely free text to speech ebook reader
This is a popular ebook reader app for reading text aloud for quite a long time. The main feature of the software is that all voice synthesizers that are installed on the PC can be used for playback. It is controlled using the standard settings. The ebook reader is able to add bookmarks, adjust the font, check spelling errors and even search for homographs. You can also add some available commercial voices for the text to speech feature.
For those who prefer to listen to books or other text content, the timer function will be useful. It will turn off the computer. This ebook reader is also quite compact in size and is available on Windows 10, 11, 8 and 7.
More information about Balabolka ->
Summary on the best text to speech book readers
We described the most interesting, in our opinion, ebook reading services with the text to speech feature. As it turned out, there are not many programs of this type. However, all of them easily cope with the main tasks of reading aloud electronic books.
CBR stands for Comic Book RAR. As the title suggests, this format is typically used for comic books, i.e. for ...
19,007
Digital documents in the MOBI format usually represent books, magazines, comics. Mobipocket ebooks use a specific data encryption type, so ...
9
PDF is an extremely convenient media files' container that keeps the documents in order regardless of a files viewer you ...
18,339