Meet free PDF converter by Icecream Apps. Convert to PDF format and vice versa in a bulk: PDF to Word, JPG to PDF, Word to PDF, Excel to PDF and much more.
4.6
based on

4693

reviews
Icecream PDF Converter is available on Windows 11, 10, 8.1, 7 and XP.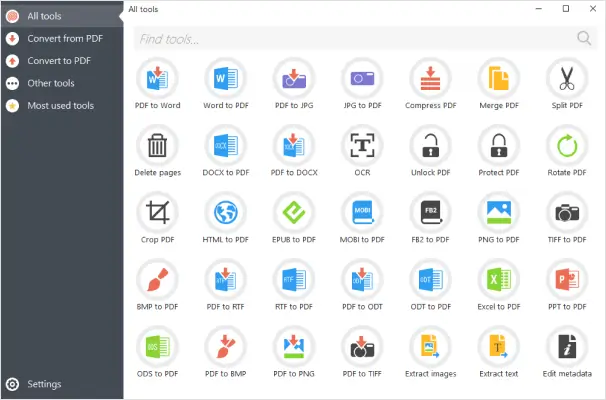 PDF Converter features
Easily convert your files to PDF format and the other way round in just a few clicks.
Convert to PDF
Convert images to PDF (JPG, PNG, BMP, TIFF, BMP, GIF), spreadsheets (XLS, XLSX, ODS) and documents (DOC, DOCX, ODT, RTF) to PDF, eBooks to PDF (EPUB, MOBI, FB2) and HTML to PDF.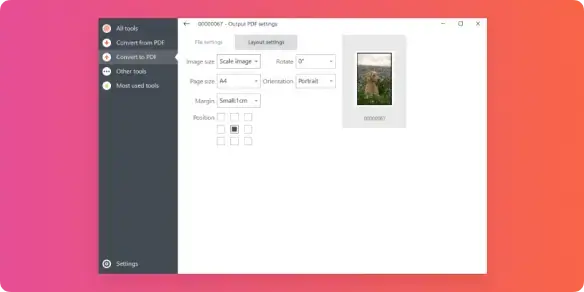 Convert from PDF
Convert PDF files to images (PNG, JPG, BMP, TIFF, GIF) or to editable DOC, DOCX, RTF documents. OCR (optical character recognition) included. Converting PDF to EPS and PDF to HTML are supported, too.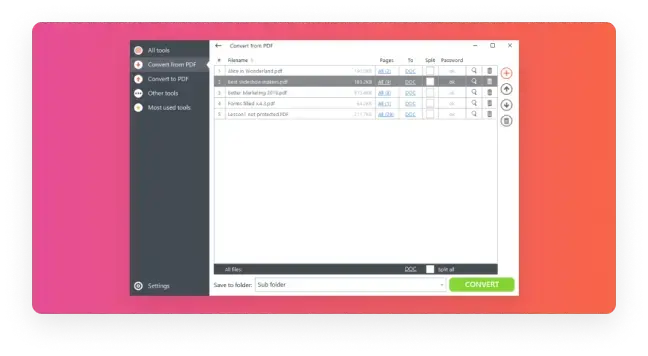 Free PDF converter
Free version of Icecream PDF Converter is available for everyone with just a couple of limitations. No watermark applied.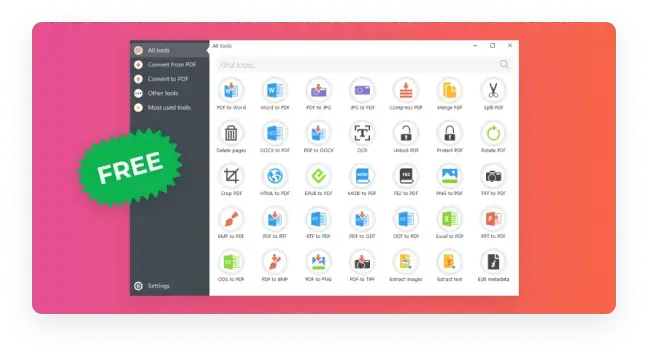 Batch processing
Add multiple files to form a queue with the PDF Converter. Convert to or from PDF as many files as you need at once. Optionally, you can merge files of different formats into a single PDF file.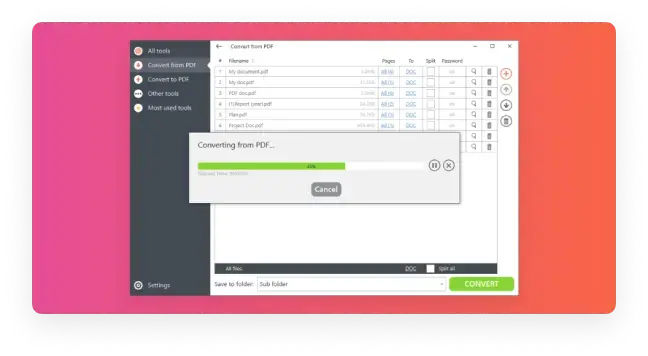 Privacy guaranteed
Convert to PDF offline with our software. No need to upload your private documents with sensitive data. All files are stored and processed on your PC only.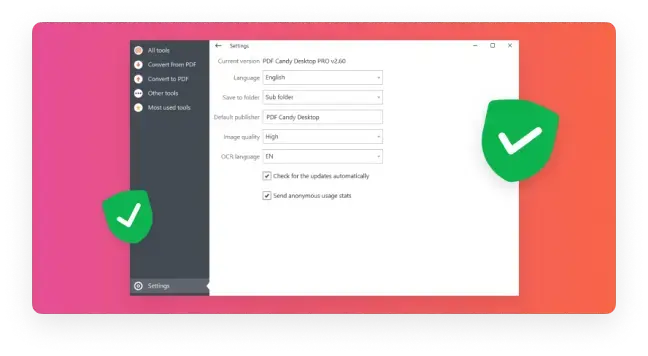 More about PDF Converter
Icecream PDF Converter is not just a PDF software but a versatile tool to help your business grow by saving your time.
Convert large files
PDF converter processes documents locally on your PC. This gives you the opportunity to process PDFs and convert to PDF files of any size.
The best PDF converter
Many years of experience in developing PDF converting and editing software allow us to provide you with the best solution on the market.
Select page ranges
Select specific PDF pages you want to be converted to images to increase productivity.
Layout settings
Convert images to PDF an set the page orientation, margins and size; rotate content and select its position.
Set password
Set the password to protect created PDF documents. Processing protected files is supported, too.
Built-in PDF preview
Free PDF converter features a handy document preview. Use it to make sure you picked the right file or to select pages for conversion.
How to's and tips on using Icecream PDF Converter
System Requirements
OS
Windows 11, Windows 10, Windows 8.1, Windows 8, Windows 7
Processor
Intel®, AMD or any other compatible processor, 1.33Ghz
Ram
512MB of RAM minimum (1GB for better performance)
Display resolution
1280x720 minimum
Languages
Afrikaans, Arabic, Belarusian, Bulgarian, Bosnian, Czech, Danish, German, Greek, English, Spanish, Estonian, Filipino, Finnish, French, Irish, Croatian, Hungarian, Armenian, Indonesian, Icelandic, Italian, Japanese, Georgian, Kazakh, Korean, Latvian, Lithuanian, Mongolian, Malay, Maltese, Myanmar (Burmese), Norwegian, Dutch, Polish, Portuguese, Romanian, Russian, Sinhala, Slovak, Slovenian, Albanian, Serbian, Swedish, Thai, Turkish, Ukrainian, Vietnamese, Chinese Simplified
PDF Converter FAQs
How do I convert a PDF file?
Open PDF Converter and drag and drop the PDF file(s) into it. Select the format you want to convert it to and select the pages you want to convert. Then click the "Convert" button.
Is PDF Converter free?
Yes, you can use it for free. There is no default watermark. The main limitations are the number of files in bulk conversion and the limit on long files.
Can I convert a PDF document to an editable Word file?
Yes, you can easily convert a PDF document to a regular DOC/DOCX document for later editing in Microsoft Word or Open Office.
What is OCR?
OCR is Optical Character Recognition. It helps convert images or scanned PDF files into editable documents. PDF Converter applies OCR automatically.
Can I merge files of multiple formats into a single PDF document?
Yes, you can do it easily with Icecream PDF Converter.
Does PDF Converter work completely offline, is it safe?
You can convert to and from PDF format without an internet connection. All files will be processed locally on your computer and will never be shared. The program is absolutely safe to install and use.
Can I use the PRO version of the program on two computers?
Yes, but only if both computers belong to the same user. Please read the EULA available in the program setup.
Subscribe to important PDF Converter updates and news by Icecream Apps