How to Convert FLAC to MP3
Audio files come in a wide variety of formats, and it can be a problem in case a device doesn't natively support some of them. Meanwhile, MP3 is a universal format that is supported by any device. If you are looking for a tool to convert FLAC to MP3, you should consider Icecream Media Converter. It is capable of converting to and from multiple formats, and FLAC and MP3 are not the exceptions.
One can easily convert FLAC to MP3 with Icecream Media Converter. The process is completed in 4 easy steps – you can check them out below.
1
Download and install the program
To start the process, download Icecream Media Converter. Helpful installation wizard will aid users with the process of installation. Just follow the steps until the program is installed. Open it and start the conversion as described below.
Import a FLAC file using the "Add file" button. One can go to the containing folder or filter all the audio files on the computer using the "File Type" box. Press "Open". It's possible to convert 2 and more files at a time by adding them to the queue; to do that click on the button saying "Add to Queue" that is in the lower right corner. User will be redirected to the working are with a view of queue of files. To add more files, repeat the procedure.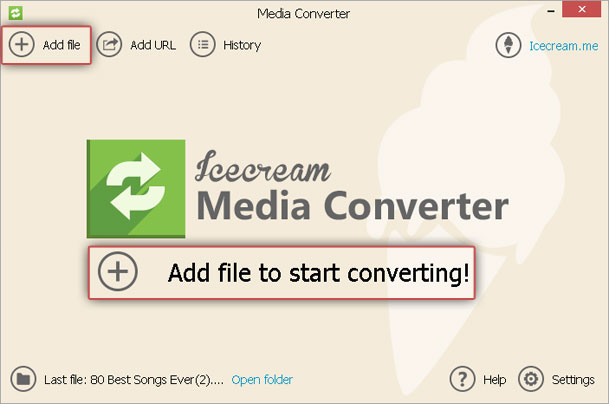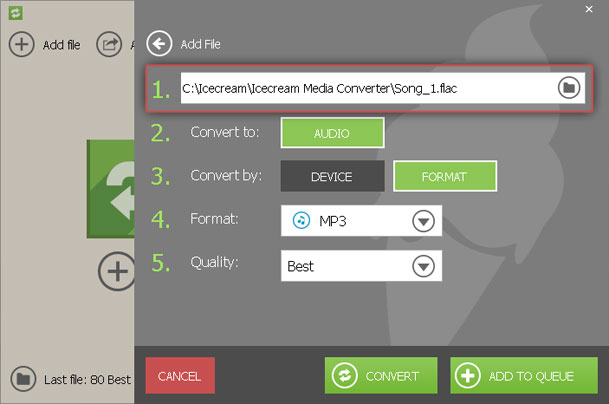 3
Configure output file settings
Once the file is imported and shown up in the corresponding box, one can proceed with the settings. In this section, it's possible to tweak the settings according to the needs.
Convert to. Both FLAC and MP3 are audio formats, so choose "Audio" option in "Convert To" line.
Convert By. If user already knows what type of format is preferable, there would be no need in choosing "Device". Select the "Format" option instead.
Choose format. Find MP3 in the dropdown menu and select it.
Choose quality. Choose the "Excellent" quality if there's no need to lower the quality of a FLAC file. In case one would like to sacrifice quality of a file in order to make it weight less, it would be better to choose "Average", "Good", or "Bad" options.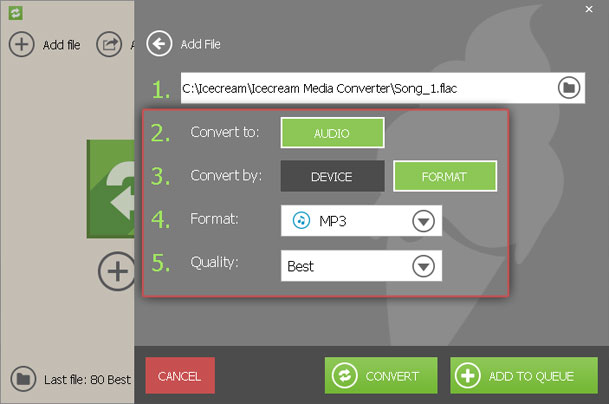 4
Start the FLAC to MP3 conversion
Make sure everything looks good and press "Convert" to convert a single file; if there are more than 1 file to be converted, press the "Add to Queue" button until all the files are added to the list and then hit "Convert" button from the queue view. The program will start the process immediately and one can watch the progress on the screen. When the conversion is over, you can test the output file in the folder it was saved in. That's how you convert FLAC to MP3 with Icecream Media Converter.