Discover Icecream Video Editor, your user-friendly free video editing software for Windows. Edit and create videos seamlessly — merge, trim, crop, add music, titles, voiceovers, transitions, and more.
4.9
based on

24350

reviews
Video editor is available on Windows 11, 10, 8.1, 8 and 7.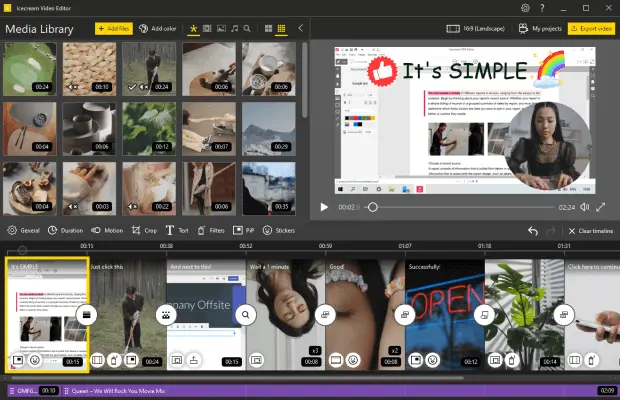 Video Editor's main features
Check out the features of Icecream Video Editor to get a better impression of what it can do.
Simple video editor
Try our entry-level video editing software, designed for simplicity. Combine videos, photos, and background audio on a single intuitive timeline with a user-friendly GUI. Add motion, stickers, and video effects with ease — no need for extensive manuals!
Supported formats
Video Editor offers comprehensive support for a wide range of popular video and image formats, including but not limited to MP4, AVI, WEBM, MOV, JPG, PNG, GIF, and more.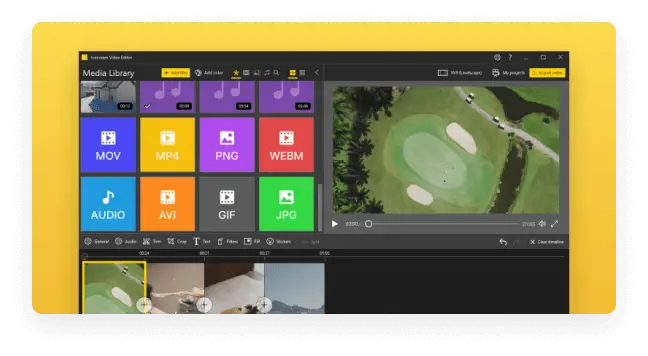 Quick sharing
Upload your videos to the cloud. Share links to your projects with friends, colleagues and others. Track views.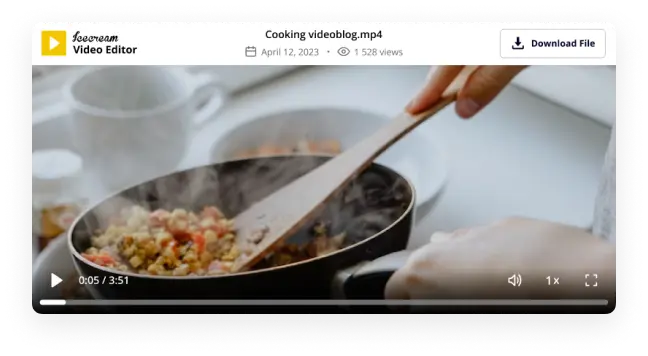 Fancy transitions
Select from 20+ transitions for videos and 10 motion effects for photos. Use the 'Random' option for a one-click blend of these features.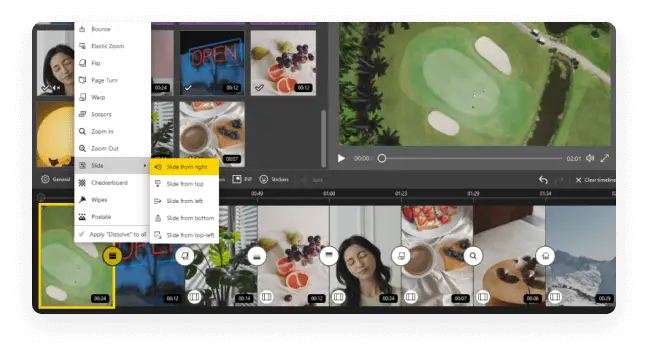 Windows video editor
Icecream Video Editor supports the main Windows OSs including the latest Windows 11 and, of course, Windows 10.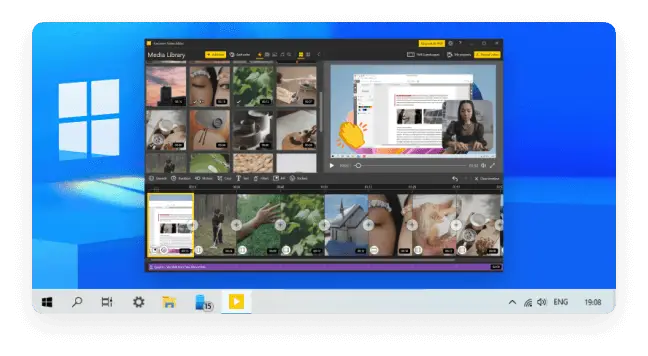 Free video editor
The Free version of our software offers most video editing features, without adding watermarks to short videos. Explore our free video editor to learn more.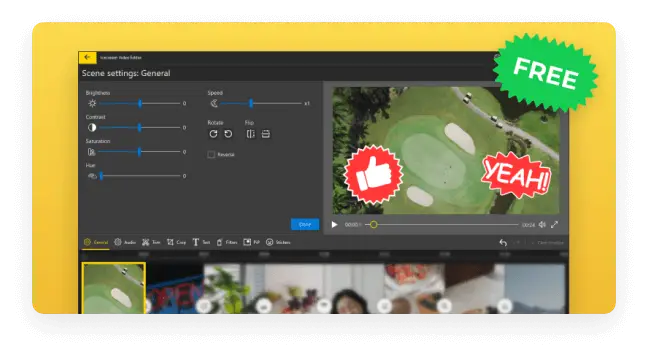 Cut and split videos
Video editor by Icecream Apps provides the options to change the original video length. Split video into separate scenes in one click or use 'Trim' mode to cut the beginning and the end of the footage.
Add audio to video
Add background music to video from an MP3 file and customize it as needed: tune volume, add effects, fade-in, fade-out, automatically adjust audio to original audio of the scene and more.
Add text to video
Quickly add text using one of the video editor's style presets. Set position, size and motion speed if you want something more than automatic settings.
Change speed
Slow down or speed up whole video or its parts in a couple of easy steps. Options from x0,25 to x4 times are available.
Resize and crop videos
Multiple crop and resize settings are available including such features as blurred background for blank parts and auto enlarging.
Flip and rotate videos
Video editor enables you to both flip and rotate your media scenes. It automatically rotates vertically-oriented files to save your time, too.
Voiceover
Add voice-over narration to videos and photos with a separate, intuitive player. Trim the recorded voice right on the timeline.
Subtitles
Add subtitles to your video as text objects or SRT file. Convenient settings for color, size, transparency, font and other styles.
Convert videos
Not only edit your video, but convert it as well! Our free video editor converts media to popular MP4 format and exports audio as an MP3 file.
Video projects
All your video projects are automatically saved in the 'Projects' section in case you need more time to complete it. Close a project and to get back to it later.
Learn more about video editing software
System Requirements
OS
Windows 11, Windows 10, Windows 8.1, Windows 8, Windows 7
Processor
Intel®, AMD or any other compatible processor, 2.66Ghz
Ram
4GB of RAM minimum (16GB for better performance)
Display resolution
1280x720 minimum
Languages
English, German, Spanish, French, Italian, Japanese, Dutch, Polish, Portuguese, Russian, Turkish, Chinese Simplified, Traditional Chinese
Video Editor FAQs
How do I remove part of a video?
There are 2 easy ways to do this.
1) Use the Split button 2 times to create 3 scenes from one. Then delete the scene in the middle.
2) Add original video twice on the timeline and use Trim function to cut both scenes so they would contain only the parts you need.
Is Video Editor safe to install?
Yes, it is absolutely safe to use any product by Icecream Apps.
How often do you update the Video Editor?
We update the software on a regular basis to introduce new features and keep it bug-free. Please check the Video Editor changelog for more information.
Is video editing hard?
We designed Icecream Video Editor so that anyone can learn how to edit videos without any prior training. It's a really simple video editor - most actions are done in a few clicks.
How do I combine short videos into one?
Add your videos to the media library of the video editor. Throw them on the timeline and combine the videos to suit your needs, adding transitions if necessary. Press Export button to save it as a new merged video.
How can I cut a video with Icecream Video Editor?
This is one of the common things you can do with the video editor. Add the video first to the Media Library, then to the timeline. Press the trim button to enter trim mode and select the beginning and end of the scene.
Is Video Editor free to use?
Yes, all main features are available in the Free version of Icecream Video Editor. In PRO version you will be able to add more than 10 scenes to the timeline and export videos longer than 5 minutes without watermark.
Subscribe to important Video Editor updates and news by Icecream Apps