Meet easy-to-use free PDF editor and creator for Windows - Icecream PDF Editor. Edit PDF text and objects, annotate, manage pages, fill-in forms, protect PDF and much more.
4.8
based on

18844

reviews
Free PDF Editor is available on Windows 11, 10, 8.1, 8 and 7.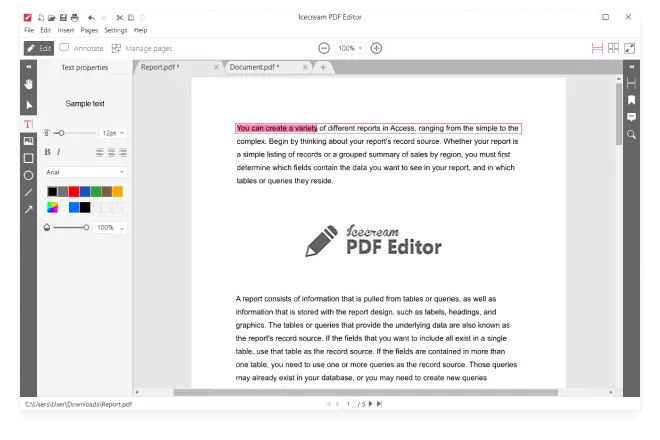 PDF Editor features
Discover the best all-in-one PDF editing solution for your Windows PC by Icecream Apps.
View and edit PDF
Use the free PDF editor daily as a PDF reader and edit or annotate your documents when needed. Do all that like a PRO in no time with the help of intuitive UI.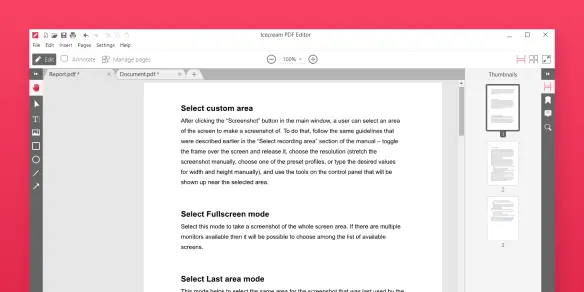 Edit text and objects
Icecream PDF Editor for Windows can perfectly edit all the commonly used PDF objects including text, images and shapes. Edit contents, change style, position, resize, rotate and delete objects.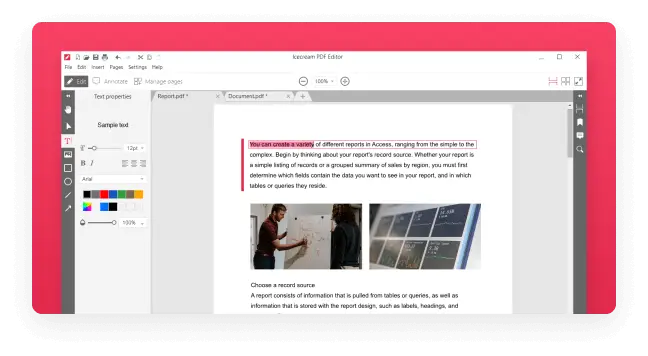 4 PDF editing modes
PDF editor has 4 main PDF editing modes: Edit PDF, Annotate, Manage pages and Fill in forms. Each mode provides an exceptional set of tools.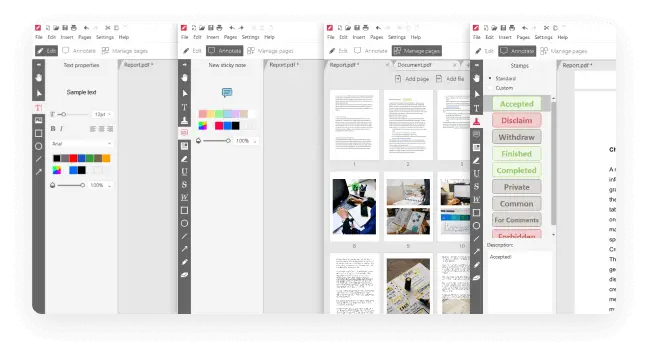 Annotate PDF
Add notes, underline, strikethrough and highlight text, leave comments using arrows, freehand and other shapes, add stamps and more.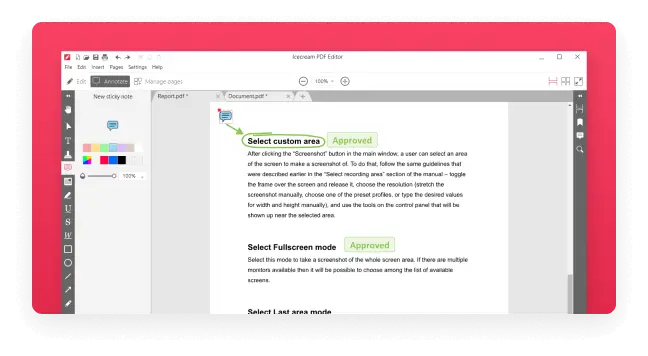 Free PDF editor
Free version of the product is available with a few limitations. You can find the list of PRO features on the Upgrade page.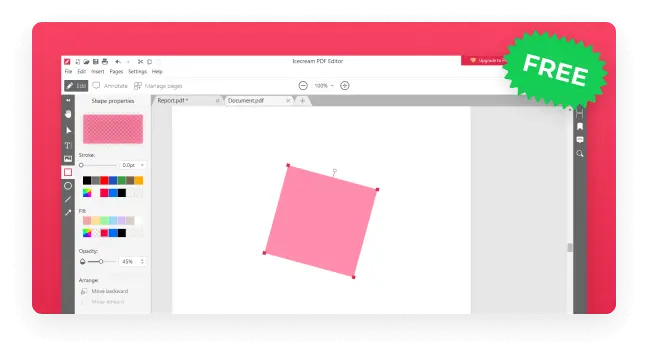 Watch PDF Editor's video presentation
Increase your productivity with powerful yet simple PDF Editor.
Manage pages
Rearrange, rotate, delete and add new pages in the 'Manage Pages' mode. Extract selected pages into a separate PDF file, too.
Edit PDF metadata
With the PDF editor you can easily change document's title, subject, author, etc.
Merge PDF documents
Combine multiple PDF files into one in the 'Edit PDF' or the 'Manage Pages' modes.
Protect PDF
Password protect your documents with sensitive data or lock document's PDF editing option.
Create PDF
Create new PDFs from scratch with the free PDF editor. Select page size and orientation.
Search your PDF
Quickly search through your PDF document before editing. The search results navigation is available for your convenience.
Crop PDF
Crop individual pages or entire PDF documents effortlessly within the PDF Editor with just a few clicks.
Image to PDF and vice versa
Easily convert PDF pages to images or seamlessly integrate image files into your PDFs as new pages, with support for various formats such as JPG, PNG, and WEBP.
Extract text
If necessary, extract the contents of your PDF file as plain text with ease.
Extract images
Streamline your PDF image extraction process with the simplicity of one-click, effortlessly retrieving all images from your documents.
More about PDF editing on your PC
System Requirements
OS
Windows 11, Windows 10, Windows 8.1, Windows 8, Windows 7
Processor
Intel®, AMD or any other compatible processor, 2.33Ghz
Ram
2GB of RAM minimum (4GB for better performance)
Display resolution
1280x720 minimum
Languages
English, Arabic, German, Spanish, French, Italian, Dutch, Polish, Portuguese, Russian, Thai, Turkish, Chinese Simplified
PDF Editor FAQs
Can PDF files be actually edited?
Definitely. Our PDF editor allows you to edit existing objects, move them around the document, and delete them completely. PDF editing can be done in Edit mode, which is enabled by default when you open the program.
How can I edit text in a PDF document?
Open a file in Icecream PDF Editor in Edit PDF mode. Double-click any text object to start editing it. Or click once to select the text object and then move, rotate or delete it using Del button.
Is PDF Editor free?
Yes, you can use all its basic features completely free of charge for an unlimited period of time. The free version adds a tiny text watermark at the bottom of each page. If you need to remove it, upgrade to the PRO version.
Can I create a new PDF file from scratch?
Yes. PDF Editor allows both editing and creating PDF files. To create a new document, use the File -> New option in the main menu. Select page size and orientation, initial number of pages and start creating. Later you can add required number of pages using navigation panel on the right side or "Manage Pages" mode.
What is the difference between "Edit" and "Annotate" modes in PDF Editor?
Annotations are different from regular PDF objects, which are part of a document. The main difference is that you can add a comment to any annotation object, annotations are not visible in print and can be hidden in some PDF viewers.
How to change PDF from read-only to editable?
Open the file in Icecream PDF Editor and save it as a new one using File -> Save As in the program main menu. After that you will be able to continue editing your document.
How to set PDF password with Icecream PDF Editor?
Open file in PDF Editor and go to main menu: File -> File permissions. There you can set 2 types of passwords - for opening or for editing PDF document only.
Subscribe to important PDF Editor updates and news by Icecream Apps