How to Convert MP4 to WMV
If you want to convert MP4 to WMV, you can't find a better tool than Icecream Media Converter. It offers an easy and intuitive conversion and has a bunch of configuration options that will help you make the output files perfect for you in your specific case.
This tutorial explains how to convert MP4 to WMV format using Icecream Media Converter. Although program's interface is very intuitive, it's recommended to familiarize yourself with this tutorial in order to avoid common mistakes.
1
Download and install the program
It is possible to download Icecream Media Converter in several simple steps. First off, click the "Download" button on this page. Then, save the installation file and run it. Installation wizard will guide you through the process, and on the completion you can launch the program to start using the application.
To add a file from your computer, press the "Add file" button in the top left corner to proceed to "Add file" panel.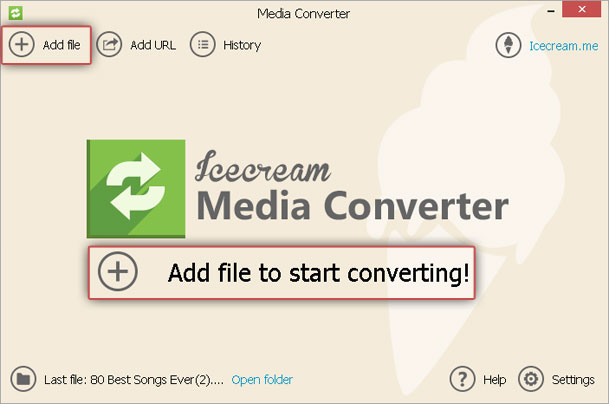 Next thing to be done is clicking on the area with icon of a folder that is located at the top of this panel. Explorer will be opened and you can use it to find the desired file on your PC.
Press "Open" to import the video to the converter. Its full path will be displayed in the upper line of the panel.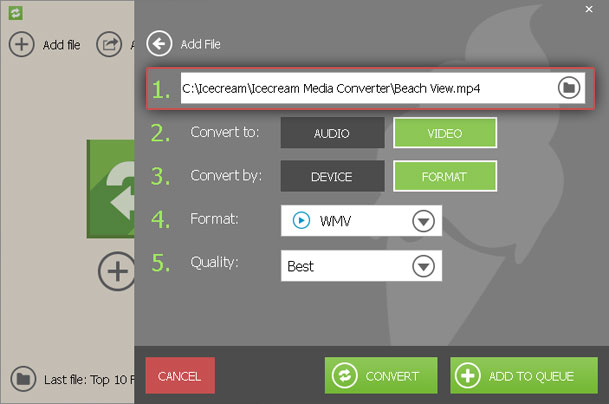 3
Configure output file settings
Convert to. As you are going to work with video files, you should select the "Video" option.
Convert by. Since you know for sure what type of formats you want to convert to, select "Format" as your "Convert by" setting.
Choose format. Select WMV from the list of the available formats. To do that, simply click on the "Format" box and scroll down. Single click on the option to select it.
Choose quality. To save the quality without changes, choose the "Best" one. Other options like "Good", "Average" and "Bad" help you compress the files if necessary.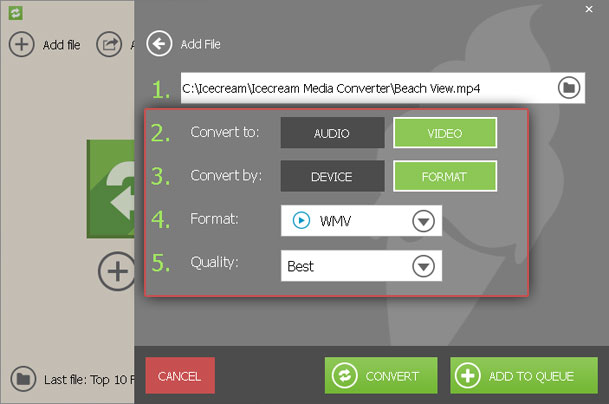 4
Start MP4 to WMV conversion
When you configured the first file, you can add more to queue them and convert multiple videos from MP4 to WMV at a time. To do that, press the "Add to queue" button in the bottom right corner of the settings panel. You will see your video in the queue panel at the left. After that, click the "Add file" button again and repeat the process for another video. Add as many files as you need, edit the queue if necessary (recycle bin icon next to each file for deleting single files and "Clear queue" button in the bottom left for deleting all files from the queue), and press the "Convert" button.
When the MP4 to WMV conversion is done, press the "Open folder" button in the popup window and check the output files in the containing folder on your computer.