How to Convert Videos to PSP
Originally, PSP is a gaming device, but it's not a secret that many people use it as an ultimate media container as well. If you love watching videos on your PSP, in some cases you should convert the videos to a format supported by this device.
Icecream Media Converter offers a special option that allows you to convert files for certain devices, including PSP. It will be very helpful if you don't know what formats are supported by your PSP. This tutorial dwells upon this specific type of conversion and makes things easier when you want to convert videos to PSP using Icecream Media Converter.
The program is installed in several simple steps:
Press the "Download" button on this site to download Icecream Media Converter;
Save a setup file;
Run the setup file and install the program;
Open it to start converting.
2
Add video file or YouTube URL
There is a good news for YouTube fans: with Icecream Media Converter you can download and convert YouTube videos simultaneously. All you need to do is click on the "Add URL" button in the upper left corner of the converter to open "Add URL" panel with all the needed elements for simple YouTube URL adding. Copy a URL from YouTube in address line of your browser and paste the link into the suggested box of the opened panel.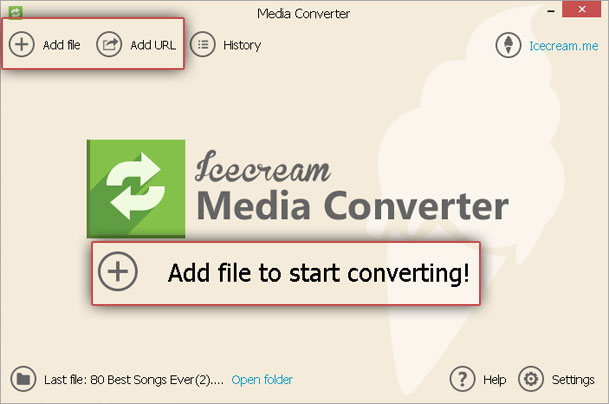 If you have your video saved as a file, click on the "Add file" button next to the "Add URL" one or click on the "Add file to start converting!" line in the middle of the main window to proceed to "Add file" panel. After that, click on the box with the "Click here to select file" line in it and choose the desired file via Windows explorer.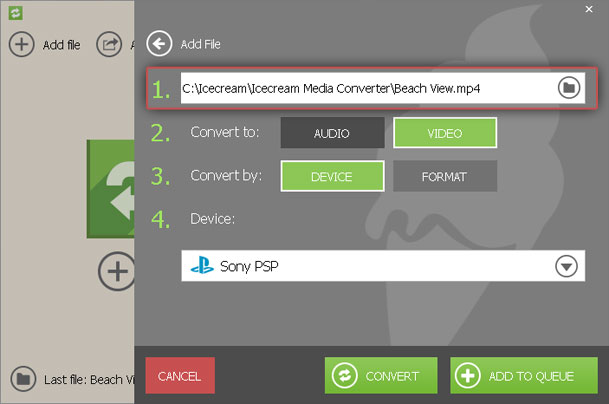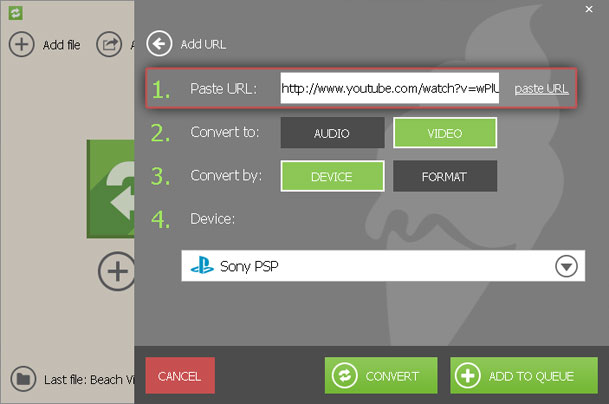 3
Configure output settings
There are several settings to configure:
Convert To: in here, you are supposed to choose the type of output files. Since you want to adapt your video to PSP, you should select the "Video" button.
Convert By: just select the "Device" option to allow the program choose presets for your device automatically.
Choose Device: if you want to convert by device, click on the "Device" box and choose PSP from the dropdown list. Make sure you chose the right model (Sony PSP, Sony PSP Old or Sony PSP Old+).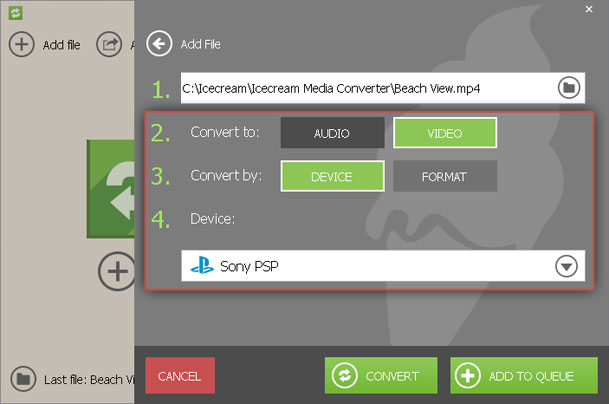 4
Start video to PSP conversion
When all settings are configured, you have two options:
Convert a single file. In this case, just press the "Convert" button in the bottom right corner of the settings panel. You will see a progress bar and some additional controls ("Pause", "Resume", "Cancel") down below – feel free to use them if you want – they are available during the conversion. On the completion, you will be offered to press the "Open folder" button to check out your output file in the containing folder.
Add more files to make a queue. Doing so, you can bulk convert videos to PSP supported media format according to the chosen settings. Press the "Add to queue" button in the bottom right corner and your file will be added to the queue. After that, you can repeat the process for as many files as you want and press the "Convert" button on the completion.