How to Convert FLV to MP4
Whenever you download videos from YouTube, they are saved in FLV format. It can turn out to be a problem though because most media players and video editing programs don't have a native support for this type of videos. Icecream Media Converter can help you with dealing with FLV videos by converting them to MP4 format – a universal format that is easily recognized by the absolute majority of programs and devices.
Before you start, take your time to familiarize yourself with this tutorial. It will be useful to make the FLV to MP4 conversion runs smooth.
1
Download and install the program
First thing first - download Icecream Media Converter which is a free program that doesn't require any payments, registration or additional installation software. You can download the program on our website - just click on the "Download" button and save a setup file on your PC. Then, run this file and follow the installation wizard's guidelines. When the process is completed, you can open the application and skip to the actual conversion.
To import a FLV file for posterior conversion, click on the "Add file" button in the upper left corner of the main window.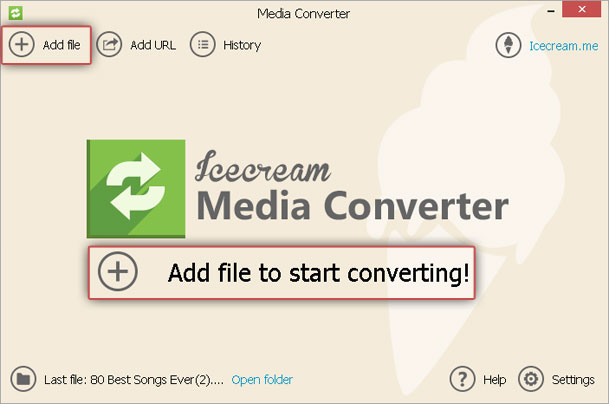 This will open "Add file" pane where you need to click on the Setting number 1 to open your computer's Explorer. Use it to browse your computer and find a necessary file. Once it's found, click on it and press "Open". A full path of the file will be displayed in the corresponding box in the file settings panel.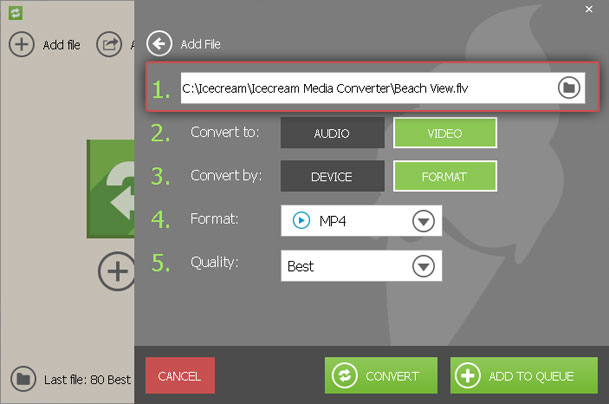 3
Configure output file settings
Convert to. Since MP4 is a video format, you should click on the "Video" button in the "Convert to" section.
Convert by. You already know what format you want to convert your input file to, so click on the "Format" option in this section.
Choose format. Click on the "Format" box and you'll see a dropdown menu with a list of available video formats. Find the "MP4" option on the list and click on it.
Choose quality. By choosing the "Best" quality option, you keep the original quality of the video. Other options are meant for a certain level of compression. By choosing "Good", "Average", or "Bad" quality, you allow the program to compress your file and make it smaller in size and relatively worse in terms of quality.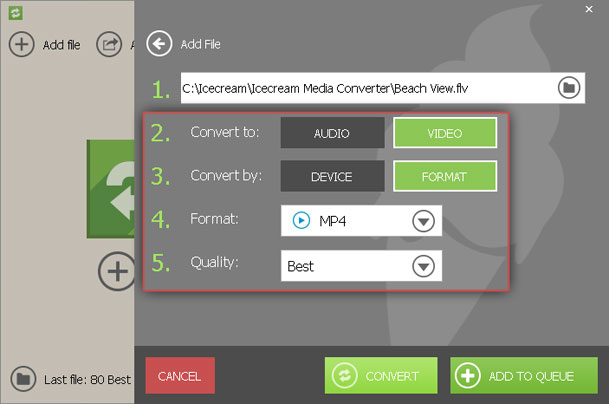 4
Start FLV to MP4 conversion
If you need to convert FLV to MP4 for only one file, simply press the "Convert" button in the lower right corner of current panel. If you want to convert several files to MP4 simultaneously, press the "Add to queue" button and select more files for conversion. If you accidentally added an unnecessary file to the queue, just click on a tiny recycle bin icon to the right of this file's name and it will be deleted from the queue. The "Clear queue" button deletes all the files from the queue and brings you back to the initial window.
When your queue is corrected and ready, press the "Convert" button in the bottom right corner and start converting. Feel free to use the "Pause/Resume" and "Cancel" controls while converting.
When FLV to MP4 conversion is completed, you will see a popup window with a brief report on the process and the "Open folder" button – click on it to view the output file(s) in the containing folder.