How to Convert MKV to AVI
If you are one of those users who consider movies in poor quality to be a complete waste of time and the best way to ruin the impression, you are probably familiar with MKV format. MKV files come in high quality and contain a lot of supporting elements for better viewer experience. Needless to say, the size of such files makes users want to cry. Indeed, they are too bulky for convenient storage. MKV to AVI conversion can help you lighten the load and give you a high quality video in a smaller package.
Icecream Media Converter is a user friendly tool that is capable of converting to and from different formats including MKV and AVI. AVI files appear to be much lighter than MKV ones due to removal of some elements that most users don't actually need for a smooth playback.
Conversion runs in several simple steps – check them out below!
1
Download and install the program
Download Icecream Media Converter and run the installation file. Follow the wizard to complete the process and launch the program on your computer. Installation is lightning fast and doesn't take longer than a minute.
Click on the "Add file" button in the main window to start importing your MKV file.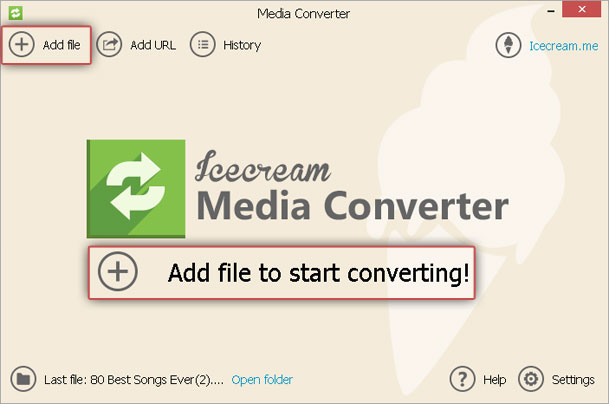 This button will open "Add file" panel where you first of all need to click on the Add File line and select the desired file on your computer through your PC's explorer. You will see the newly opened window of you explorer where you need to select your MKV file. In case you are having problems with finding a needed one, you can filter all your files by type: video, audio, video and audio files together or all file types. In your case, you want to select "video" and find a necessary file from the suggested list.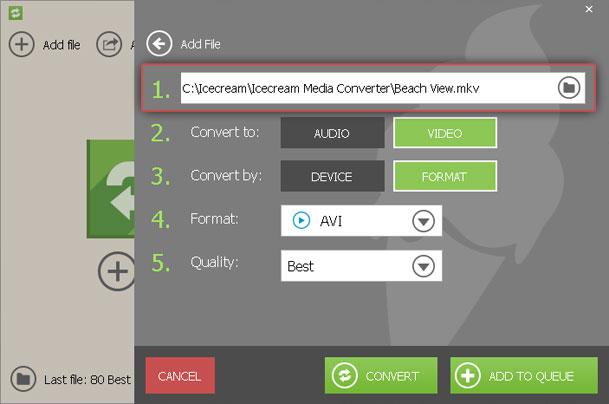 3
Configure Output settings
Both MKV and AVI are video formats, so you want to select "Video" option in the "Type Settings" line. Choosing "Audio" will lead to turning your MKV file to an audio format.
Choose "Format" in the "Convert By" line. You don't need to convert by device because you already know what type of format you need.
Since we are here to convert MKV to AVI, select AVI in the dropdown list. You can reconsider your output format choice though and select any other suggested format from the list.
Finally, set the quality for your output file. We strongly recommend to choose Best or Good options to preserve the original quality. However, if you want to make the file as lightweight as possible, you should opt for "Average" or "Bad".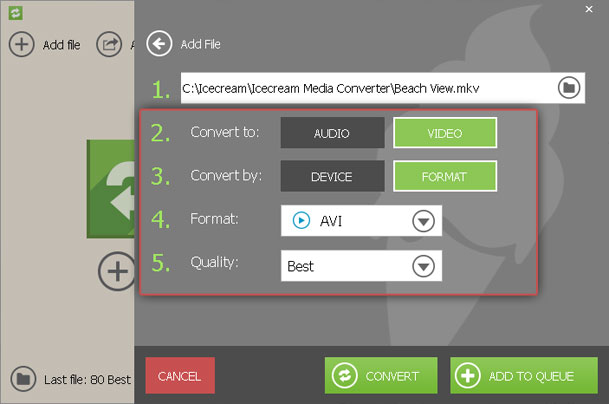 4
Start MKV to AVI conversion
If you want to convert several files at a time, simply click on "Add To Queue" button at the bottom of the window. This will redirect you to the queue view of Media Converter and will allow you to add more files to convert MKV to AVI format for. If you only need to convert this particular one, you can make the process faster by hitting the "Convert" button at the right lower corner of the working area.
Once all the files are added to the queue and all the presets are made, go ahead and click on the "Convert" button.
Typically, the process takes less than a minute for short videos and longer for HD videos. On the completion, the program will show you the message with the suggestion to open folder containing your new AVI file in.