How to Convert Video to MP3
The situation where you need to convert video to MP3 can be quite challenging even if you already have a media converter pre-installed. The point is not each and every converter supports this type of conversion. If that's the problem you are struggling with, you should consider a new application with a wider range of options.
Icecream Media Converter is a powerful tool for all types of conversion, including video-to-audio and conversion from URL. Converting video to MP3 (ex: converting MP4 to MP3) can be helpful when the video itself is not of a particular interest and also in case you want to import the file to your MP3 player.
Conversion with Icecream Media Converter is extremely easy and done in 4 simple steps. Here is a tutorial on how to do that.
1
Download and install the program
Download Icecream Media Converter from this website and run the installation file. Follow the Installation Wizard to install the program on your computer. Once it is finished, run the program and start the conversion.
You can either convert a file that has already been saved on your computer or download and convert the video by its URL.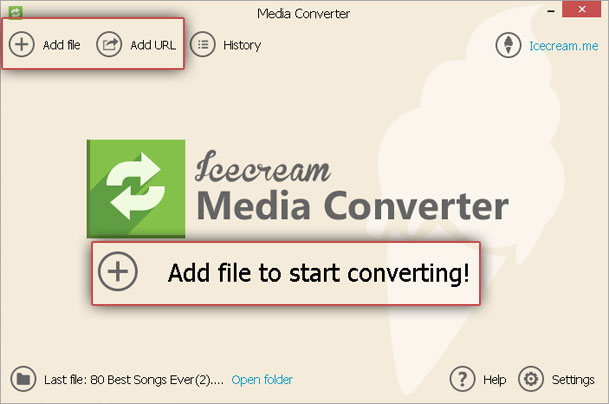 If you have the file saved on your computer, click on "Add File" on the main window to use functions of "Add file" panel. Click on the area with the icon folder to open your computer's explorer for choosing the file. You can proceed with video to MP3 conversion for files of such video formats as FLV, AVI, MP4, MKV, M4V, 3GP, MPG and even more.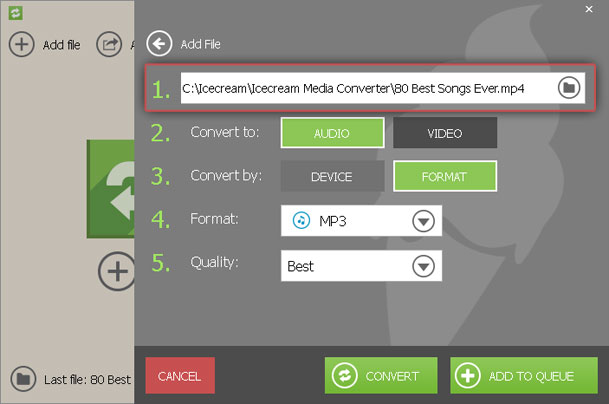 If you want to download and convert the video simultaneously from URL, press the "Add URL" button at the top left corner of software's interface to proceed to "Add URL" panel. Copy the needed link from your browser and paste it to the panel by pressing Ctrl+V key combination or with the help of "paste URL" button.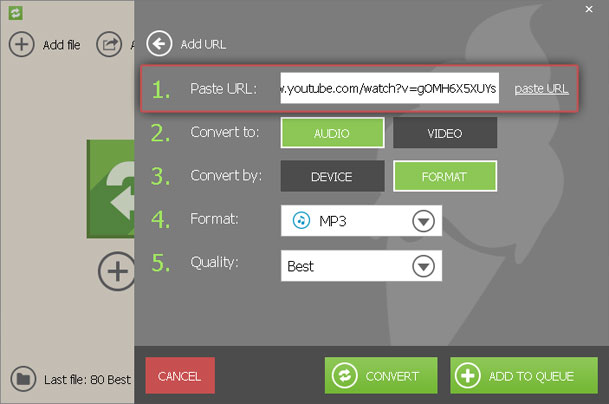 3
Configure output file settings
Convert To. To rip audio from video, select "Audio" option in the "Convert To" line.
Convert By. There is no point in converting by device because you have already made up your mind on format preference. So, choose the "Format" option in the "Convert By" section.
Choose format. Click on the "Format" box and choose MP3 from the suggested list.
Choose quality. Choose one of four quality types from "Best" to "Bad". In case with MP3 format, "Best" would do the trick.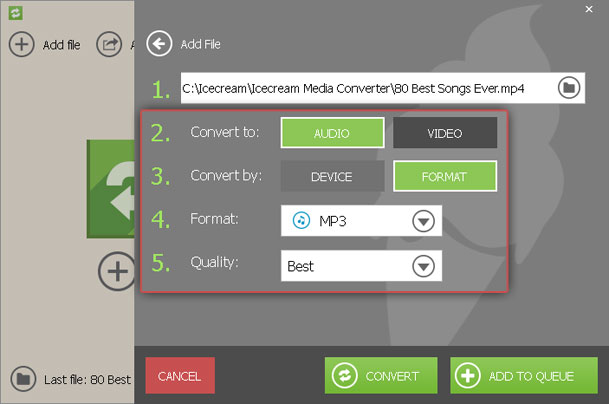 4
Start video to MP3 conversion
Once you're all set, press on the "Convert" button to initiate the conversion of this current file right away. In case you need to convert several files at a time - "Add to Queue" button is for you. After you press it, you will need to repeat Step 2 and Step 3 until you add all the files to be converted. When you do that – click "Convert" button from the queue view of the program. If you want to add just one file to the queue and convert queue containing 1 item you can also do that.