How to Convert Video to WMV
In spite of a wide variety of available media players, many people feel the most comfortable using default Windows' one. Unfortunately, it has certain limitations for video formats. You can easily overcome these limitations by converting videos to WMV – a native Windows Media Player format.
Conversion will be much easier with Icecream Media Converter. This tool was designed for quick video conversion to various media formats and offers a user friendly interface that makes conversion easy even for newbies. The following tutorial is dedicated to converting all sorts of videos to WMV.
1
Download and install the program
To start using this application - download Icecream Media Converter and install it on your computer. You can get it from our website – just press the "Download" button to save a setup file on your hard drive. After that, run it to install the converter. This is a full version of the program that doesn't require payment, additional activation tools or registration. When the installation is accomplished, you can run the program by double clicking on its icon.
2
Add video file or YouTube URL
Whether you have a file saved on your PC or a YouTube URL, you can use Icecream Media Converter to change your videos' extension to WMV. To convert from a file, press "Add File"; to convert from URL, press "Add URL". After that you will be redirected to working panels where you need to add file or URL. To add file, click on the area with the sign "Click here to select file..." to open your computer's explorer and pick a file to work with over there.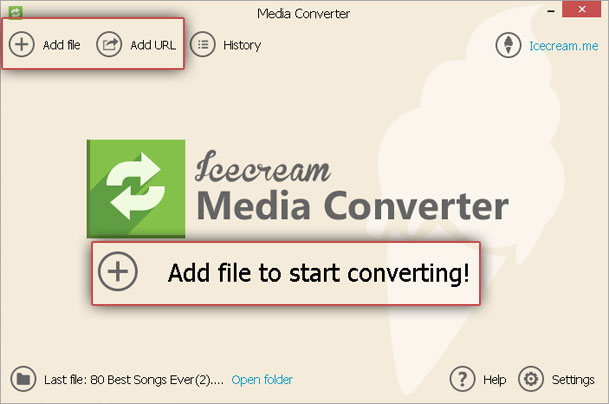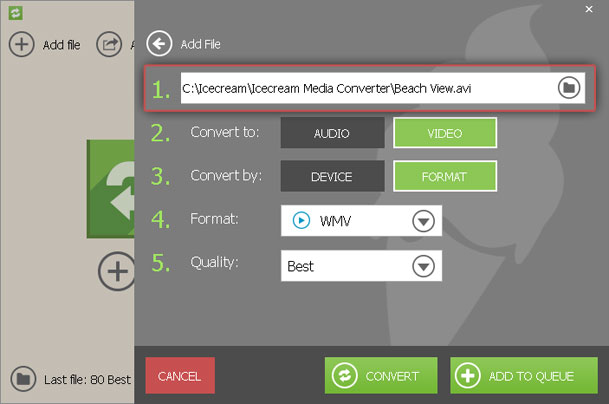 To add URL you need in advance copy its URL in your browser, then in the "Add URL" panel of Icecream Media Converter you should either press Ctrl+V key combination or the button "paste URL" to insert the Internet address of YouTube video into the program. The next thing you need to do is to prepare the file or URL to convert to WMV video format.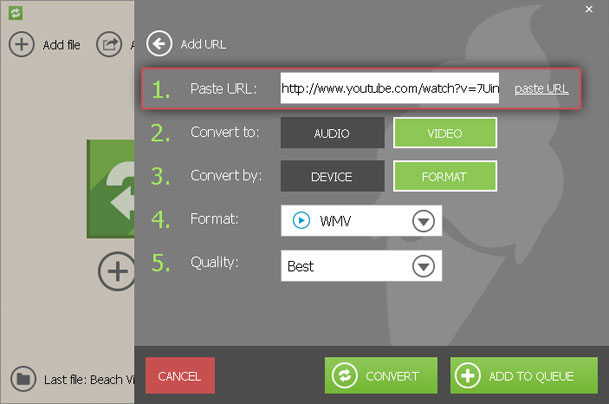 3
Configure output file settings
Convert To. WMV is a video format, so you should choose the "Video" option. Choosing "Audio" will lead to losing the video part of the file.
Convert By. If you want to convert videos to WMA, choose "Format" in the "Convert By" section to be able to select the desired format later.
Choose format. Choose WMA from the dropdown list.
Choose quality. "Best" is a default option which means conversion without losing any quality. Choosing one of the alternative types, you lower the output quality but at the same time you make the output file more compact.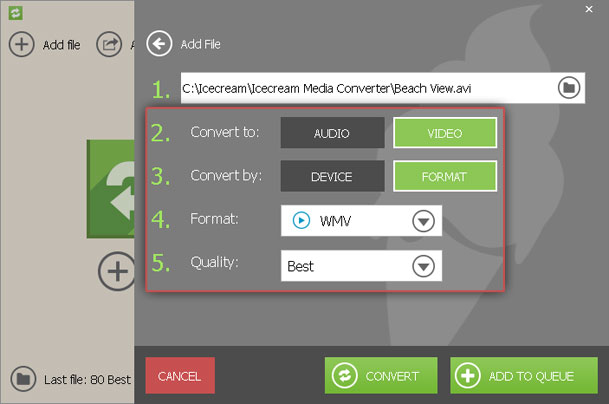 4
Start the conversion to WMV
To convert a single file to WMV, just press the "Convert" button below when you're done with the settings. To convert several files at a time, press the "Add to Queue" button every time the configurations are set and press "Add File" or "Add URL" to import a new item to the list. Check the queue to make sure the output configurations are set correctly and press "Convert" out of the queue view.

The process may take from a few seconds to several hours depending on the size of the files and the number of the files you decided to proceed. You will be able to see the progress bar and status notes below each video and stop or delete them by clicking on the corresponding icons.