Effortlessly record your screen with audio using Icecream Screen Recorder. Capture applications, webinars, tutorials, live streams, and more to boost your productivity!
4.9
based on

53536

reviews
Screen Recorder is available on Windows, Mac and Android.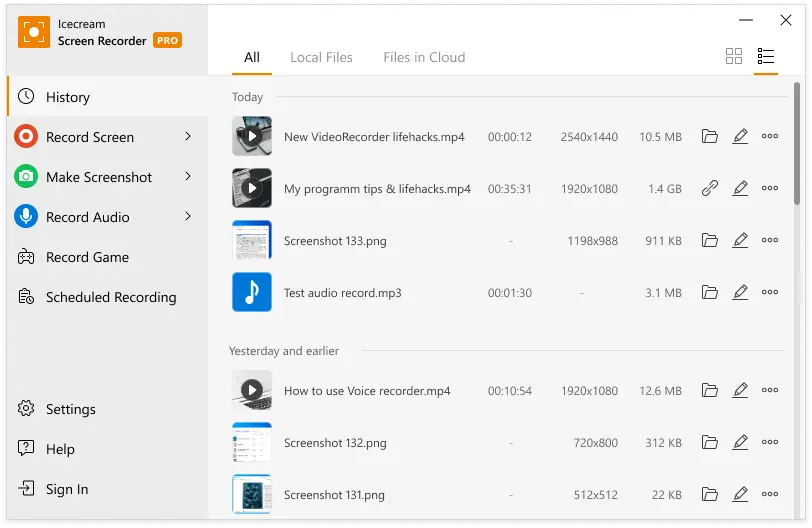 Screen Recorder's

main features

Check out the list of the best features of Icecream Screen Recorder. It won't take more than a minute.
Record screen
Whether you want to record your entire screen or just a specific area, our screen recording software makes it effortless. You have the flexibility to capture any monitor on your PC, and it's never been simpler!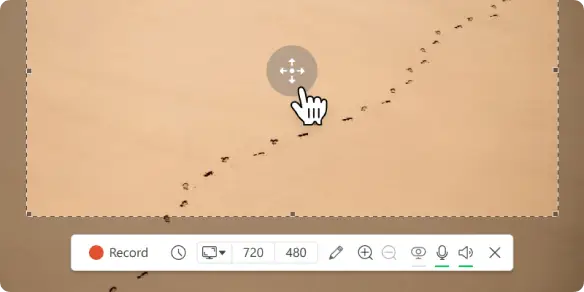 Annotate and edit recordings
Enhance your screen captures by drawing, adding text, arrows, and bullet annotations. Our screen recorder also offers easy video editing features like trimming, adjusting playback speed, muting, and much more.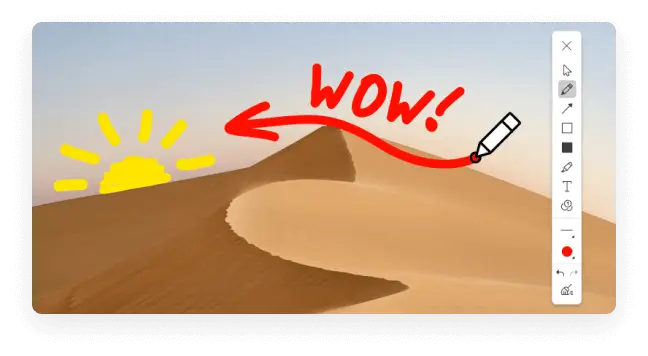 Share instantly
Record your screen with a single click and seamlessly upload the video to our servers. Share it instantly with colleagues or clients. Plus, keep track of your recording views right within the app.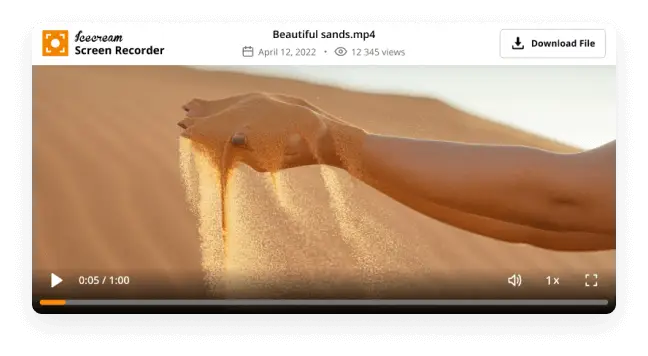 Windows 11/10 support
Our software perfectly supports all main Windows OSs including Windows 11. However, the latest rebuilds and optimization make it the best Windows 10 screen recorder.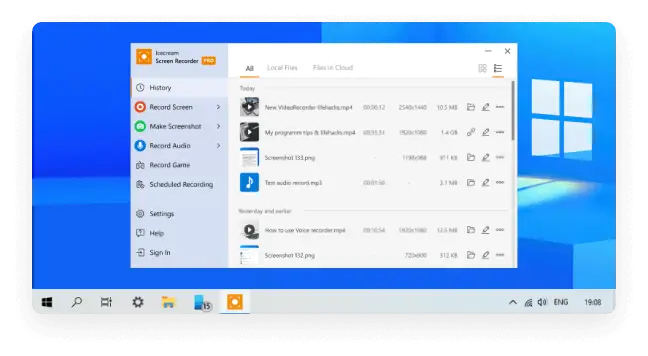 Free screen recorder
There are lots of screen recording features available for free. You can upload all recorded videos for sharing for free as well, no registration needed.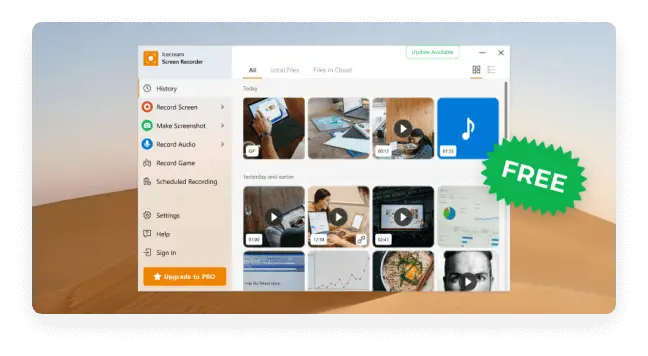 Watch Screen Recorder in action!
Discover the simplicity of the powerful free screen recorder:
Record webcam
Add a webcamera window to your screen recording to personally narrate and comment videos. Set the webcam window shape and size.
Record audio
This screen recorder for PC supports recording of both computer audio and microphone. Narrate while you record screen activity with music in the background.
Add logo
Upload an image to be used as a watermark for the recorded videos. Set the position within selected area and opacity.
Scheduled screen recording
Set the start and stop date and time to screen record full screen or its area. The capture process will be initiated automatically along with the schedule.
Display hotkeys
Enable this feature to show the hotkey combinations that were used during the screen recording on Windows.
Make screenshots
3 ways to screenshot on Windows: save a screenshot as JPG or PNG file, copy to clipboard or upload to our server.
More on screen recording software
System Requirements
OS
Windows 11, Windows 10, Windows 8.1, Windows 8, Windows 7
Processor
Intel®, AMD or any other compatible processor, 2.66Ghz
Ram
4GB of RAM minimum (8GB for better performance)
Display resolution
1280x720 minimum
Languages
Afrikaans, Arabic, Belarusian, Bulgarian, Bosnian, Czech, Danish, German, Greek, English, Spanish, Estonian, Filipino, Finnish, French, Irish, Croatian, Hungarian, Armenian, Indonesian, Icelandic, Italian, Japanese, Georgian, Kazakh, Korean, Latvian, Lithuanian, Mongolian, Malay, Maltese, Myanmar (Burmese), Norwegian, Dutch, Polish, Portuguese, Romanian, Russian, Sinhala, Slovak, Slovenian, Albanian, Serbian, Swedish, Thai, Turkish, Ukrainian, Vietnamese, Chinese Simplified
Screen Recorder FAQs
How do I record my computer screen with sound?
Icecream Screen Recorder records system sounds by default. To make sure it does, check the Program Settings -> Audio.
Is it safe to install Screen Recorder on my PC?
Yes, the program does not contain any malware and is virus-free. In addition, it runs locally on your computer.
How long can I screen record on Windows 10?
Basically, you can do this as long as you want using the screen recorder. However, if you need to record a very long video, just in case, check Settings → Save to → Maximum file size. The same goes for Windows 11.
How do I record full screen?
To record in full-screen mode, hover your mouse over the "Capture Video" option in the main menu of Icecream Screen Recorder and select the display you want to record from the drop-down menu.
Is Screen Recorder free?
Yes, it is free to record screen with certain limitations. Full list of PRO features you can check on the program Upgrade page.
Can screen recording be detected by some applications and services?
In most cases: NO. However, it depends entirely on the application you are using. Some of them may notify other users or even block the recording.
Can I record two screens at the same time?
No, this feature is not currently available in the Screen Recorder.
How often is Icecream Screen Recorder updated?
We update our products regularly to keep them up to date and error-free. You can see the history of screen recorder updates on its changelog page.
Can I record webcam along with the screen?
Yes, this feature is available in the program. Configure the appearance of the webcam in Settings → System. You can also expand the webcam to the full screen by double-clicking on it.
Where do I find my screen recording on Windows 10?
All videos are saved on the Desktop by default. On some systems you need to press F5 to refresh the Desktop icons. You can change the output folder in the Screen Recorder: Settings → Save To.
Does Screen Recorder have built-in video editing abilities?
Yes, you can trim the recording, mute the sound, change the speed, resolution, format.
Subscribe to important Screen Recorder updates and news by Icecream Apps