How to Convert AVI to MP4
Changing between video formats is a rather complicated process, especially for novice users. This is due to a large number of programs available, wide graphics settings and other nuances. Today we will tell you all about how to convert AVI to MP4 for free and give the detailed instructions on this.
How to convert AVI to MP4?
Download the free video converter, install and open it.
Use the "Add File" button to add AVI file or drag and drop it. You can convert AVI to MP4 in bulk by adding as many media files to the queue as you need.
Set the MP4 format as the output one. Also, tweak the resolution and quality of the resulting video.
Use additional tools to improve the video quality: add watermark, subtitles, trim or mute the video.

The first feature is designed to add your own logo, company trademark and so on. It also helps protect the user's copyright. Upload an image or type in the text manually.
Subtitles are designed to add transcription to video. This tool is often used by travel bloggers or foreign language teachers.
Trim video for a more precise video conversion.
Remove audio from video to overlay own sound, such as funny music, on an entertainment video.

Click the corresponding button to convert AVI to MP4. The file will be available in a specified folder. You can also access it from the "History" panel of the video converter's window.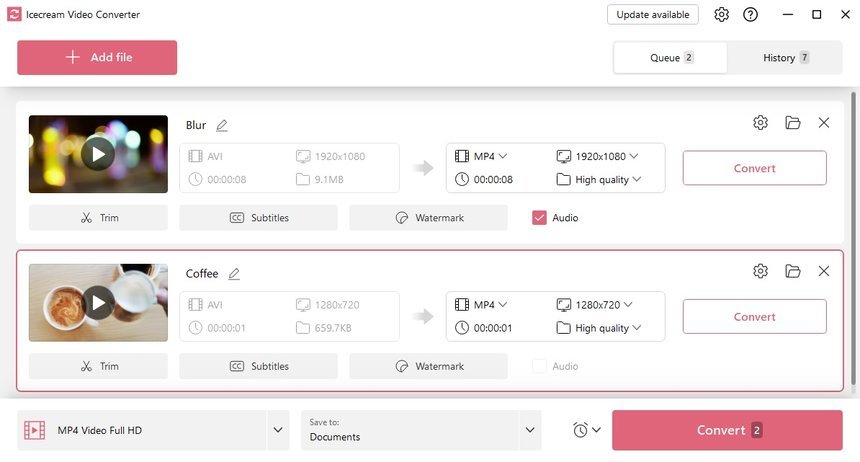 Advantages of AVI to MP4 converter
The software supports all popular video file formats: MP4, AVI, MKV, 3GP, WMV, MOV, M4V, MPG, M2TS, MTS and others. This makes it a universal video converter.
Set common settings for output files for bulk video conversion. This will reduce the time spent on setting up the conversion of each video clip individually. At the same time you can set separate settings for each video you convert from AVI to MP4.
Once video conversion is done, you can turn off the computer or enable the Sleep mode.
AVI to MP4 converter is compatible with all versions of Windows.
User-friendly interface will not cause difficulties for novice users. It also cuts the time needed to learn the features and tools. Once the software is installed, you can get started right away. The working are of this free video converter is not overloaded with buttons and additional elements. It helps you focus on your work.
Setting the final resolution and quality will improve the quality of the output video. The program supports high resolution up to 4K (3840×2160 pixels).
The program comes in handy for designers, video bloggers, social networking users, and other users whose work or hobbies are related to video content.
In some cases, converting AVI to MP4 not only improves the quality, making the file compatible with mobile devices. It also reduces the file size. This helps you watch long movies and clips on other gadgets, such as smartphones or game consoles.
How to convert AVI to MP4: Conclusion
Today we have showed you how to convert AVI video to MP4 to achieve video compatibility on different devices. Use free video converter of your choice to switch between video formats with ease.
What do you need a video to audio converter for? For example, there is a music video with a cool ...
2,502
Video converter is a popular type of software to convert video files to other formats. Such programs are used by ...
366
Many users face certain problems when want to record a video guide or manual for a certain product, videogame session ...
10,539