How to Convert PDF to DOC
If you received a document in PDF format, but realize that it needs a lot of alterations, you should convert PDF to DOC for easy editing. DOC format is a format supported by Microsoft Word and can be edited on almost any device. Whereas editing PDF can be quite difficult.
In this article we will guide you through how to convert PDF to DOC with free PDF Converter. This software allows you to convert PDF to DOC, DOCX, RTF, ODT, HTML and other supported output formats. To start using the program and take full advantage of its features, follow the instructions below.
How to convert PDF to DOC with Icecream PDF Converter
The entire PDF to Word conversion process is very simple. Add the files to the program, select the format, adjust the settings if necessary and start converting. Learn more about each step below.
Step 1: Get the PDF Converter
Download Icecream PDF Converter and run the setup process. Launch the software to proceed.
Step 2: Add PDF files
Select the "From PDF" mode to convert PDF to DOC format with the program. Click the "+Add PDF File" button or drag and drop the documents into the program's window.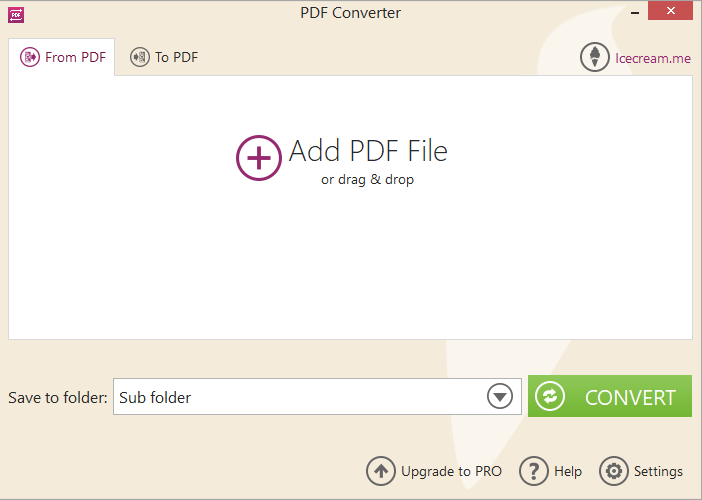 Step 3: Tweak the settings
At this stage, the user can specify the output format, and folder to save the resulting document. You can also select specific pages for conversion and split the PDF file into separate pages. The PDF to DOC converter works with password-protected files, too. Just add such a file and enter the valid password to proceed.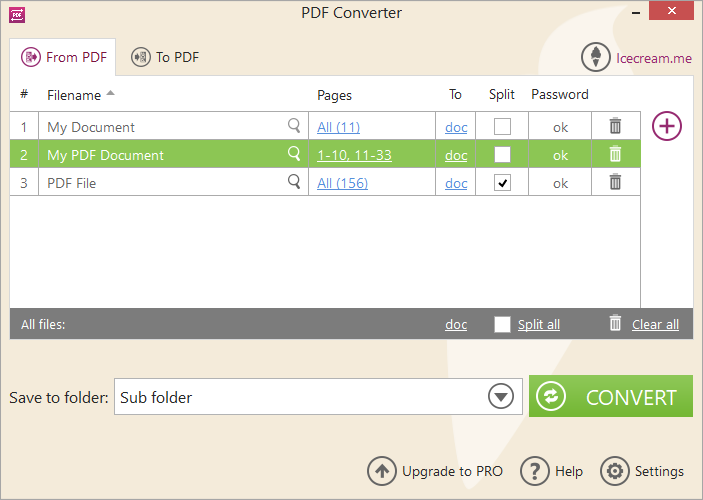 Step 4: Start the PDF to DOC conversion
Click the "Convert" button to start processing the files. You can now easily open the file in Word or any other popular text editor to make the necessary changes.
Pros of free PDF to DOC converter
The software is installed directly on the PC, so it doesn't rely on the Internet connection;
Compatibility with all versions of Windows, starting with XP;
Fast operation even on computers with poor technical capabilities;
Flexible settings that offer a wealth of conversion options;
You can turn PDF to DOC and vice versa;
Works with most popular document formats;
Has a large number of tutorials that will be useful to novice users;
An uncluttered, user-friendly and nice interface that everyone can understand.
Conclusion and useful links
Now you see that turning PDF into DOC can be very easy and fast. Microsoft Word documents, namely DOC and DOCX are very easy to edit, which cannot be said about PDF. With this free PDF converter, you can also convert back DOC to PDF and DOCX to PDF. Additionally, EPUB to PDF conversion is available, which is useful for converting e-books to an easier-to-read format.
JPG or JPEG file format is the most widely used format to share images over the Internet. It is also ...
7,762
DOCX is a document file format used by Microsoft Office 2007. DOCX is an Open XML document file with no ...
7,177
PNG or Portable Network Graphics is a lossless raster graphics file format. PNG is used as a replacement for GIF ...
8,120