How Do I Stamp PDF for Free?
Today's business world revolves around daily signing and sharing papers. Digital evolution has led us to work with documents electronically. This is great because it simplifies the document transfer process and saves time. Do you know what else would make workflow easier? Stamp PDF right on your computer. Read further to know how to add stamp to PDF for free.
Step 1. Download Icecream PDF Editor
Our PDF editor can be downloaded for free for any Windows PC. It performs all useful operations for everyday work: edit, annotate, manage pages, add comments or text, insert images, stamp PDF, and much more. Installation takes up to a few minutes. You won't have to pay anything to use our program unless you decide to upgrade to the PRO version. Click the button below to get the PDF editor on your computer.
Step 2. Open file or files
Add a file by dragging and dropping or by clicking the "Open…" button. You can upload several PDFs at once via the Explorer.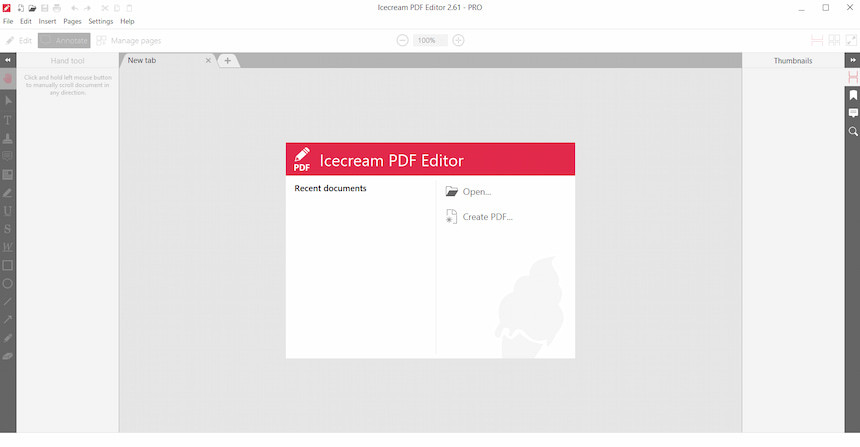 Step 3. Select the "PDF stamp" tool
Proceed to the "Annotate" mode and select the "Manage stamps" tool in the menu on the left. Or go to the "Insert" menu at the top tool bar and click the "Stamp..." option in the drop-down list.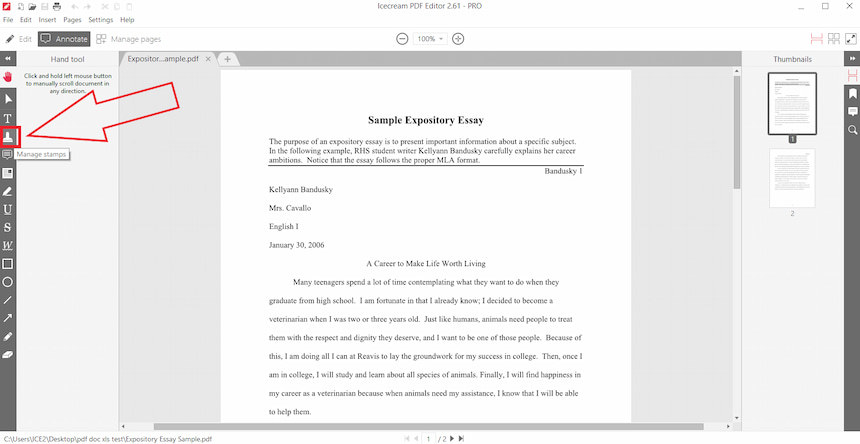 Step 4. Add stamp to PDF
You will see PDF stamp templates. If there is one you want among them, click it and select the place in the document to which it will be applied. You can resize the stamp and add a custom description to it.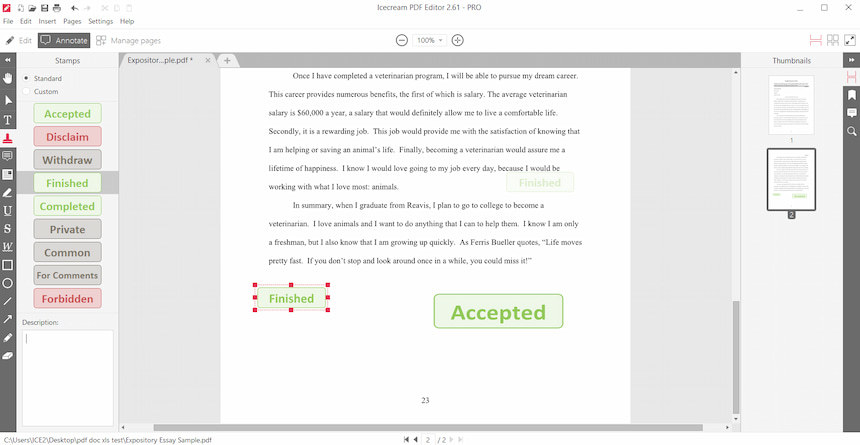 Also, if there is no PDF stamp that fits your needs, create one by selecting the "Custom" option. Insert any text, choose a color, or even add the date and time. What's more, this PDF editor lets you create stamps from images. Upload a pucture to stamp your PDF with it.
Note: To avoid distorting the stamp as you resize it, hold down CTRL and drag it in the desired direction.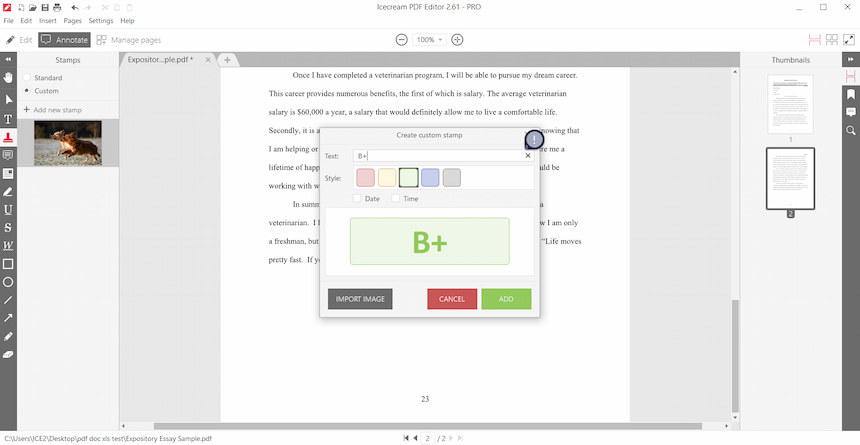 Step 5. Repeat until satisfied and export
Basically, that's all you need to do. Add stamp to PDF as many times as you need (see steps 1-4). When finished, press "CTRL+S" or go to File -> Save or Save As to save the edited PDF on your computer as a new file.
Final Thought
In this article, we learned how to easily stamp PDF with Icecream PDF Editor. All operations are available for free for Windows users. Don't forget that we offer not only a way to add a stamp to PDF, but also great functionality for the most comfortable work with PDF, even edit existing text in PDF. Stay tuned for more helpful tips!
Most users who work with PDF documents are familiar with the difficulties that arise when processing files of this format.
5
Today, in the heyday of digital technology, extra attention is paid to the protection of personal data. This is due ...
5
PDF documents are not supposed to be edited. One needs to have a special program for each and every editing ...
8,789