How to Make Icecream PDF Editor your Default PDF Reader
Setting a program as default can increase one's productivity a lot. Especially when it comes to a frequently used program like the one for working with PDF files. It is nice when you just click on a file and it is opened in your favorite program. Read below to find a short manual on how to do make Icecream PDF Editor your default PDF app in Windows 8 and 10 by using "Open With" option of the File Explorer.
In your File Explorer or on your Desktop, right click on any PDF document. Select "Open With", select "choose another app" to open the "How do you want to open this file?" popup with the list of options.
2
Select Icecream PDF Editor
Select Icecream PDF Editor from the list. Don't forget to check the option "Always use this app to open .PDF files".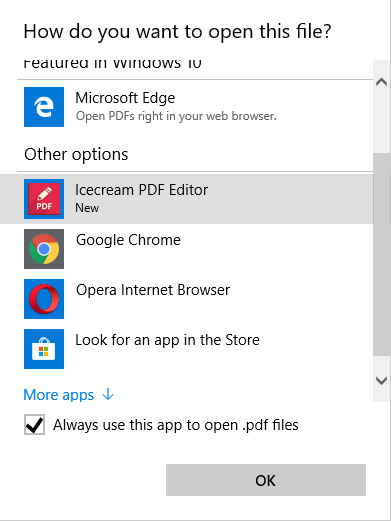 3
Press "OK" to apply the change
Congratulations! Now Icecream PDF Editor is your default app for viewing/editing PDF documents.
Please notice: If Icecream PDF Editor doesn't appear in "How do you want to open this file?" box, you should scroll down to find "More apps" option. Click it to browse Icecream PDF Editor. If no luck still, scroll down even more to see "Look for another app in this PC" option. Click it to find Icecream PDF Editor, then click "Open" button to set it as the default app.
Many professionals may need to learn how to insert a page into a PDF file. For example, if you need to expand the terms of a contract ...
1,056
Every user has encountered difficulties with PDF files at least once. For example, how to edit existing text in PDF? Such issues arise not ...
1,608
PDF files can be easily opened and viewed, but modifying is much more complicated - especially when it comes to text editing in a PDF.
22,961