3 Ways to Open a PDF File
Many journalists, bloggers, lawyers and other professionals whose work is related to document management have come across PDF files. This is a popular and demanded format for storing, editing and sending original documents by email.
This article shows you the best three ways of how to open PDF files on your computer quickly and efficiently. Some require additional software, one will involve a Google account.
1. Open a PDF file with Icecream PDF Editor
The free PDF Editor by Icecream Apps is installed directly on your computer's hard drive, and its further use does not require an internet connection. This guarantees complete security of your data. Moreover, the software can not only open PDF files, but can perfectly edit their content.
To start using the software and view PDF on a PC, follow the instructions below:
Download PDF editor and install it on your computer. Then launch the program.

Click the "Open" button with the folder icon to select a PDF.

Now you can not only read PDF files, but edit them (e.g., the name of the organization and its status), make notes for colleagues and so on, too.

Do not forget to save the document using the "File" menu, where you can select between "Save" or "Save As". In the first case, the file will be re-written, in the second – you can specify a new folder path or file name to create a new PDF.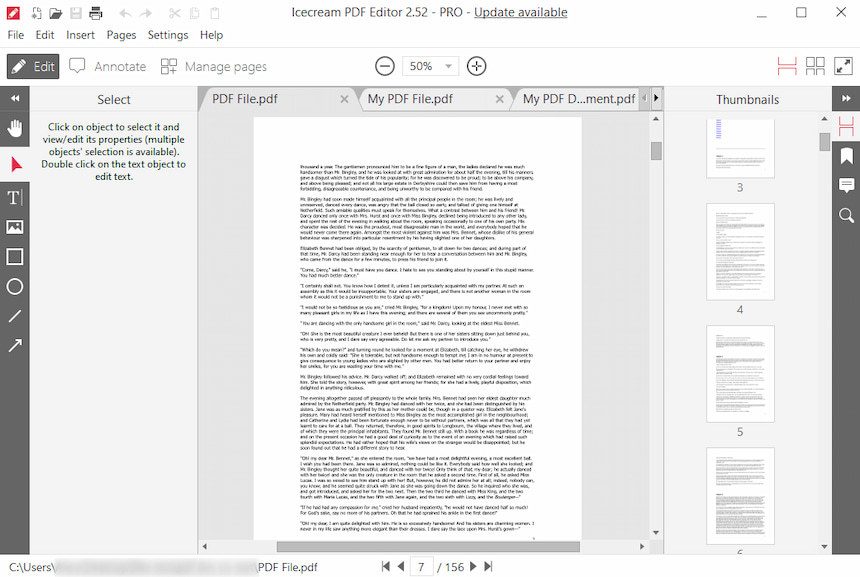 Additional tools to edit a PDF
Hints on possible modes of operation will be shown for inexperienced users. If you have little experience in working with documents, we suggest that you carefully read this information. So, the user can edit, annotate, manage pages and fill in forms.
The first mode allows you to edit PDF text and objects, move through pages and resize them. The second – to add comments, links, notes, which will not be visible when printing. This is useful when you need to point the user to some imperfections in the document, make cheat sheets and so on. With the third page management mode the user will be able to merge PDF, delete pages and change the position of the content. The fourth allows you to fill in forms that are already in the file.
Create a new PDF
Not only one can open PDF files, but users also have the option to create a new PDF from scratch. Usually, the last option is used to create non-template contracts, reports and other atypical documents.
PROS:
User-friendly and understandable interface even for beginners;
High speed of content processing;
Extensive functionality;
Small program size;
Does not require high PC specifications to open PDF file;
The software can work offline.
CONS:
Windows OS only;
Takes up more hard disk space on comparing to other methods.
2. How to open a PDF file with Google Docs
You can also open a PDF using Google Drive, but this function is only available to registered users with a Google account.
Simply log in to the cloud storage with your email and password and upload a PDF document to My Drive using the "New" button.

In the drop-down list, you can select a folder or a specific file to work with.

Once uploaded, you can read the PDF documents online.
Unlike the first, this method does not allow you to edit PDF, but it is possible to leave comments for team work. This can be useful when reviewing various documents.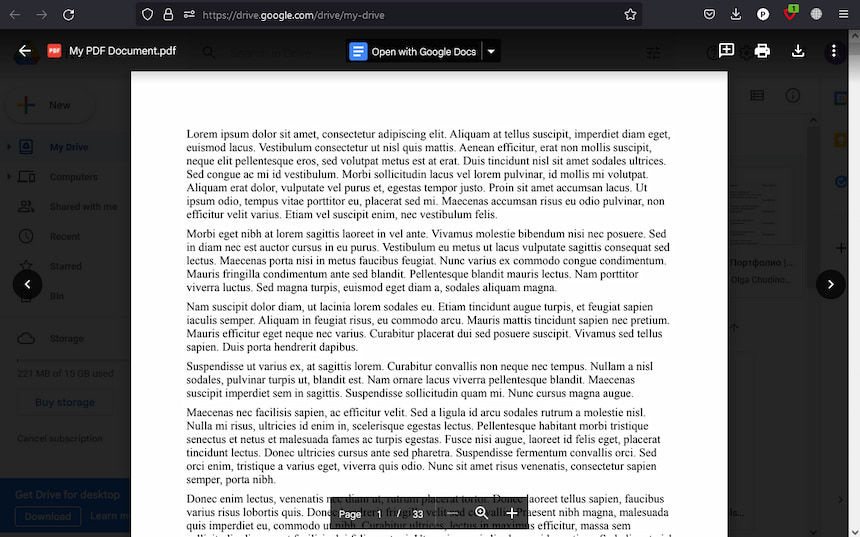 PROS:
A few simple steps to open a PDF in Google Docs;
Possibility to quickly save and transfer a PDF file;
Does not require high PC performance;
Accessible on any device.
CONS:
Requires a stable Internet connection;
Requires Google account.
3. Open a PDF file in a browser
You can also open PDF using any simple browser, such as Microsoft Edge, Google Chrome, Mozilla Firefox and others.
Locate the document on your computer, right-click it and select the "Open with" option in the menu.
Then pick the browser you are using to view PDF. It will be opened in a new tab.
PROS:
Extremely fast way to open a PDF file;
Requires no special knowledge or additional software;
Suitable for opening PDF, as well as highlighting part of the text, turning the page;
Works offline without an Internet connection.
CONS:
Very limited functionality;
Lack of additional tools, simple PDF viewer.
Every user has encountered difficulties with PDF files at least once. For example, how to edit existing text in PDF?
11
Documents in PDF format are supposed to be viewed only. Each and every action that somehow changes the PDF file ...
11,327
Today's business world revolves around daily signing and sharing papers. Digital evolution has led us to work with documents electronically.
0