How to Convert MP3 to WAV
Although MP3 is a widespread and universal audio format, in some cases WAV appears to be a better option. If you are struggling with audio conversion and can't find a tool that supports necessary formats, go ahead and try Icecream Media Converter – it's user friendly, stable, and offers a good quality conversion for any files, including MP3 to WAV one.
Check this article to familiarize yourself with the program and get more information about this particular type of conversion.
1
Download and install the program
First of all, download Icecream Media Converter by pressing the "Download" button from this page. Save and launch a setup file and proceed with the installation by following the guidelines given by the Wizard. Once the installation is completed, double click on program's icon to launch it.
If the file that you want to convert is saved on your hard drive, you need to import it to the program. Look at the upper left corner and press the "Add file" button. Alternatively, press the "Add file to start converting!" button. Clicking on any of these two buttons will bring you to the "Add file" panel.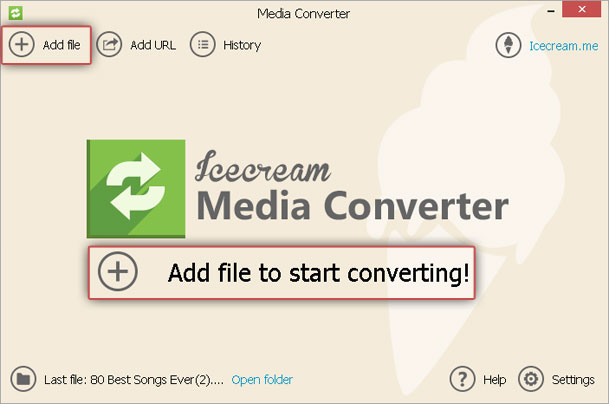 Click on the upper setting's box to open the Explorer and browse your hard drive to find a necessary file. Once it's chosen, press "Open" to continue.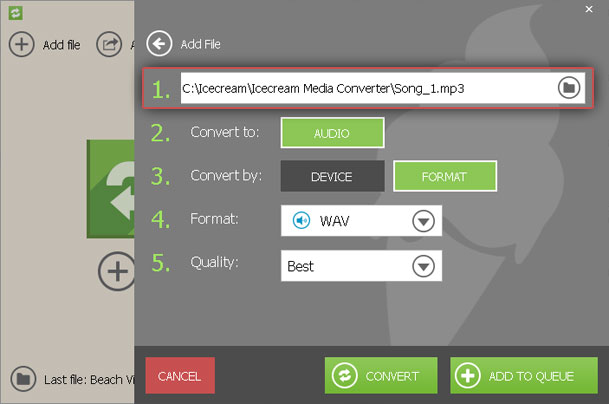 3
Configure output file settings
Convert to. To convert MP3 to WAV, leave the "Audio" option.
Convert by. Choose "Format" to have the opportunity to select a necessary format in the setting below.
Choose format. Select "WAV" from the dropdown menu.
Choose quality. Choose "Best" if you want to leave the original quality unchanged or other options ("Good", "Average" or "Bad") if you want to make the audios smaller in size due to reducing their quality at a certain degree.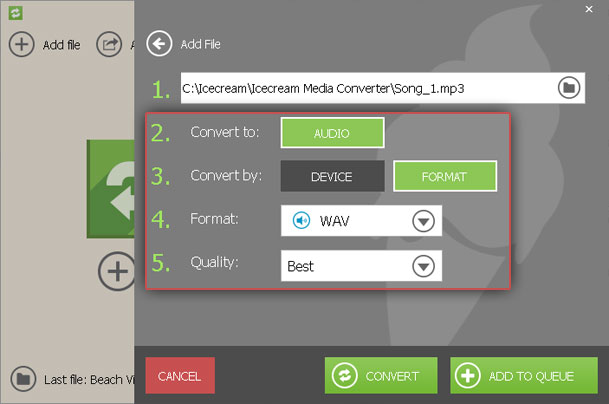 4
Start MP3 to WAV conversion
Now, you have two ways to go:
Start converting the file that you've just prepared for MP3 to WAV conversion by clicking on the "Convert" button in the bottom right corner. You can use "Pause/Resume" and "Cancel" icons in the bottom of the window to manage the process. In the end, the program will suggest you to skip to your output files in a containing folder ("Open folder" button).
Continue with adding more files for batch conversion. If you have more files to convert, you don't have to do it separately for each new one, press the "Add to queue" (bottom right) button and repeat the process for each file. By pressing the "Convert" button, you initiate the process for all the files in the queue.