How to Merge Videos in Windows 10
Today, in the age of digital technology, there are few people who have not ever been involved in video recording. Almost every person has a smartphone, which allows you to make high-quality videos. In this article we will show you how to merge videos in Windows 10. This can come in handy for creating cool video reviews or creating holiday content.
When choosing a video merger, you need to consider its ease of use, the number of the features it offers and its price. We'll overview the best ways to combine video clips into a single file using popular free video mergers for Windows.
1. Icecream Video Editor - free video merger for Windows 10, 11, 8, 7
To start merging videos, you need to download a free video editor to your computer. Then install and run the program and follow the instructions below.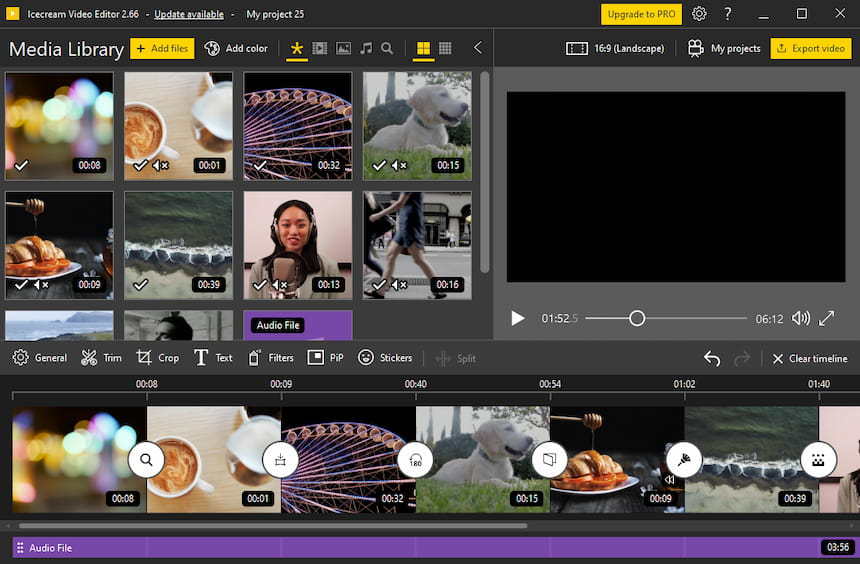 To merge videos, click the "Add Files" button to add files to the Media Library. You can add images and audio files if you plan to add music to video, too.
Now drag and drop the files to the timeline. Rearrange or duplicate them if needed.
Set the transition effects, trim videos, crop or speed up them, add text or stickers, or select the aspect ratio. The last function is useful for editing videos for specific purposes, e.g. posting to social media.
Preview the project in the video player before you merge videos.
If everything looks good, click the "Export Files" button. This will combine videos on the timeline and will create a new file.
Advantages of Icecream Video Editor
Wide functionality with flexible settings that both beginners and professionals can benefit from;
Internet connection is not required, so you can merge video files together anywhere you have a PC;
Video editor with amazing intuitive design;
Full set of tools to create polished projects.
2. Windows Movie Maker - the default video merged by Microsoft
Many users are not even aware that Windows already has a built-in editor for merging multiple videos into one file. The utility allows you to combine, crop videos, add pictures, and more. To start using the video editor, follow the instructions.
Launch Windows Movie Maker. If for some reason it is not installed on your PC, you should download it from the Microsoft store.
Click the "Add Videos and Photos" button in the upper left-hand side corner.
Next, use explorer to select the files you want. Once uploaded, they will be added to the timeline. At this stage, you can change their sequence.
You can preview the entire clip and adjust some settings before saving it.
To merge videos, click the "Save Movie" button and specify the location where the final file will be created.
Pros
Video merger and editor with user-friendly interface;
Quick operation and conversion;
Requires no internet connection;
Is compatible with majority of Windows OS versions.
Cons
Requires a paid license for extended features;
Can occasionally freeze and crash.
Conclusion on how to merge videos in Windows 10
Today we shared two free and quick methods to combine videos in a hassle-free way. This can come in handy for bloggers to publish content for their channels, administrators to provide detailed instructions for their staff, designers to create a promo videos, and other users whose business is related to video content.
Despite evolving technology that makes it possible for anyone to become a video creator, it's still very difficult to generate ...
11
Flipping videos is turning them upside down or left to right and vice versa over their axis. You can easily ...
13,710