Top 9 Free Slideshow Makers
Nearly all modern businessmen, students, managers have faced the problem of how to show and deliver the information to the audience in the most attractive way. For this purpose, software developers have created paid and free slideshow makers: online and offline services and apps to create video presentations from images.
In this article, we reviewed the top-notch free desktop slideshow software and online services.
Free offline slideshow makers
1. Icecream Slideshow Maker - easy-to-use slideshow maker for Windows OS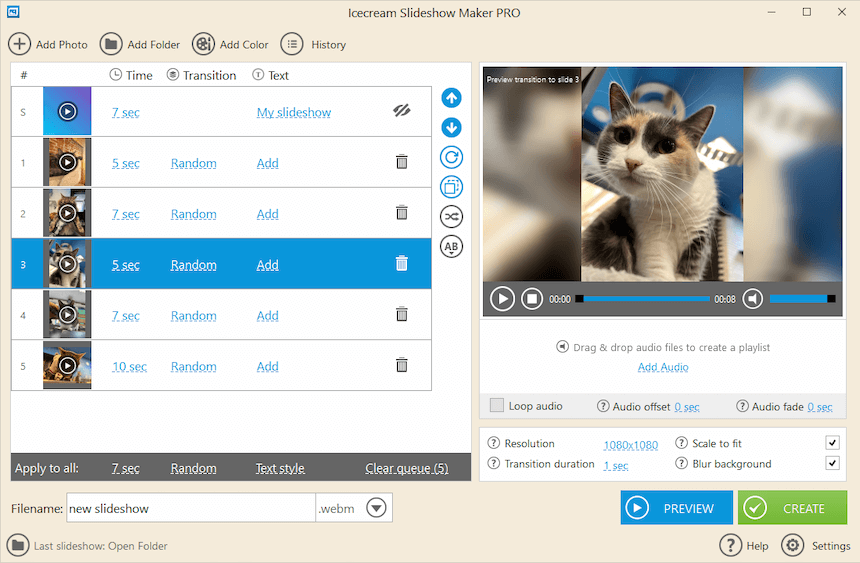 A great slideshow software with all the most popular features and options. It allows you to create slideshow projects in different formats and in various resolution. This is great for uploading and broadcasting clips on different platforms and monitors. 2K and 4k resolutions, for instance, are suitable for presentation of high-definition objects, WEBM - for displaying on devices with the Android operating system from Google, MP4 and AVI can be viewed on a TV.
You can add transitions between slides, add text and blank slides, shuffle images and more. All what's needed for fast and effective slideshow creation
PROS:
Create slideshow with music and add playlists;
Resume slideshows from History panel;
Slideshow maker app with simple and intuitive interface;
Does not require high PC performance;
Upload video presentations directly to YouTube, Google Drive or Dropbox.
2. ThunderSoft Free Slideshow Maker - free slideshow software with advanced customization options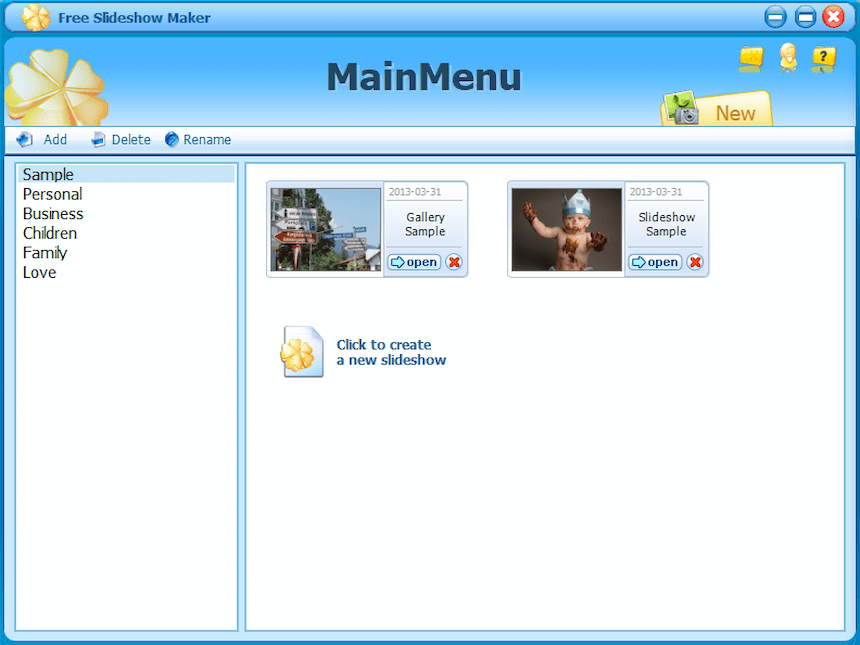 Rather convenient and functional free slideshow maker. With its help, you can edit not only the slides (pictures, documents, and so on), but also insert video files into the projects. In addition, the functionality of the program is able to add sound and additional spectacular transitions. It is suitable for Windows operating systems, starting with XP version.
Advantages:
Wide functionality;
Makes slideshow with music;
Animations can be added;
Little CPU and GPU load;
Exports the file in most modern formats (MP4, AVI, MOV etc.);
Direct uploading to the hosting.
Disadvantages:
Steep learning curve;
Video slideshow maker with outdated design.
ThunderSoft Free Slideshow Maker page ->
3. Microsoft PowerPoint - well-known slideshow maker of the Office package
A powerful utility for creating slideshows. A great advantage is a huge number of templates that you can use to create a presentations in no time. You will , however, need a Microsoft account to work with this slideshow software or with the online version of PowerPoint, too. In addition to that, it allows you to mount only 3 presentations per month.
PROS:
Set of ready-to-use themes;
Microsoft 365 service supports Windows, macOS, Android and iOS;
Useful help system;
Compatible with other Office package software.
CONS:
Trial version has a standard set of features;
Limited number of presentations per month;
Requires a Microsoft account.
4. Magix Photostory - slideshow maker with built-in image editor
Powerful free slideshow software for professional and amateur use. It contains a large set of tools for creating presentations and videos with background music. If you are a beginner, Magix Photostory has already pre-installed templates and style solutions. There is also an opportunity to generate a video clip in automatic mode, which is suitable for one-time use, e.g., for creating a small clip from your family photos.
PRO:
Wide variety of individual settings;
Compatibility with high resolution video files;
Instant file sharing and DVD burning;
Built-in store, with a set of additional tools;
Professional special effects such as distortion and 3D simulations;
Does not require high PC or laptop performance.
Disadvantages:
Slideshow maker app with steep learning curve;
In the free version, you can only work with basic tasks.
5. Bolide Slideshow Creator - slideshow software that supports an impressive number of input formats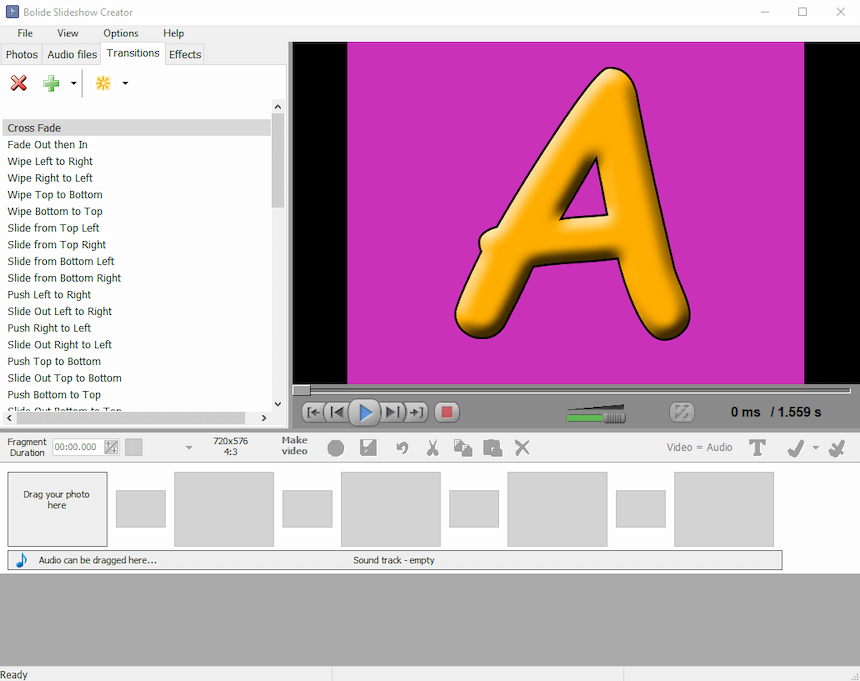 A free slideshow software for creating simple video presentations. It offers an intuitive set of tools, and the files' processing does not require high PC performance. There is also a simple, yet functional built-in image editor that allows you to crop and rotate the picture, add inscriptions. Create presentation and save the file in various formats (AVI, MKV, FLV, MP4 etc.).
Advantages:
High performance even on weak computers;
Suitable for beginners;
User-friendly interface;
No watermark and free distribution.
Disadvantages:
Limited functionality;
No audio editor. .
Online free slideshow makers
1. Prezi - online slideshow maker for business and education
A service that allows you to create slideshow directly in the browser. There's a number of templates, possibility to reuse some of your previously created slideshow presentations and a great way to integrate your projects in Zoom, Microsoft Teams and Webex. This is a gre
PROS:
No limits on the number of slides, which makes the online slideshow maker indispensable for creating lengthy term papers and dissertations for students with lots of graphs and pictures;
Ready-made templates.
CONS:
Free version has limited functionality;
Projects are published on the Prezi site, which can be a critical option for some private documents.
2. Keynote - slideshow maker from Apple
This is a slideshow app for creating presentations on smartphones running Apple-based operating systems: iOS, macOS. It has a large library of preloaded effects and transitions. You can also add charts, diagrams, collaborate on the projects with other and more.
PROS:
Compatible with most Apple devices;
Apple Pencil support;
Collaboration with colleagues is possible.
CONS:
Works exclusively on macOS;
Not suitable for professional use.
3. Canva - popular online slideshow maker with templates
An online platform for creating video presentations. This slideshow maker is suitable for bloggers, students, managers to create a beautiful video in a short time. There's a free version, but for professional use you will need to purchase a PRO account. It will give users more technical capabilities, as well as access to a large library of business templates, posters and other useful features.
PROS:
Large selection of additional tools. These are titles, animated page transitions, image filters;
Fast export to popular web-hosting sites;
Compatibility with most manufacturers of microphones and camcorders;
Works with most of the popular formats;
The ability to purchase a version with an extended set of tools.
CONS:
Some users may have problems with fonts;
Free version has only the standard toolkit;
No ability to resize the picture. To change the resolution of the photo you will have to use third-party editors.
Canva online slideshow maker ->
4. Google Slides - basic free slideshow maker
A PowerPoint-like online slideshow creator that is distributed for free and requires a Google account. The service has an intuitive interface and allows you to quickly create a fairly good video from photos. However, it lacks some advanced features on comparing to other slideshow maker apps from our list
Advantages:
Works in a browser;
Google Drive support;
Does not require high device performance.
Disadvantages:
Small set of tools;
No graphics editor.
A slideshow with music is a great way to create a vivid presentation for any occasion. It is indeed a ...
6,674
When the vows are spoken and rings exchanged, the only thing that will remind you of a Big Day is ...
16,966
A slideshow is one of the best ways to organize pictures for storage. Indeed, the majority of Windows users sometimes ...
18,304