How to Reverse a Video
Users play videos in reverse to create entertaining videos, funny clips, tutorials, and other types of media content. If you don't already know how to reverse a video, we'll show you the way to do that on Windows.
This video effect will look great on already recorded clips with animals, for editing a short clip with a broken vase or a person walking backwards. This approach to video content making and editing helps bloggers, administrators of social networking groups and others create interesting videos for their websites, as well as for uploading to entertainment portals and services. Read
How to reverse a video?
This tutorial will be based on Icecream Video Editor, it is a rather powerful and functional video editor that has the ability to put a video in reverse. To work with the program you need to download it to your Windows computer and install it. To create cool content and edit your videos with the various options that this video reverser offers, follow the instructions below.
Open Icecream Video Editor
To run the video in reverse it must be loaded into the program's Library. Do that by pressing the "Add files" button or with the drag&drop.
Now you need to add the clip to the timeline, which is at the very bottom of the video editing workspace. To do this, move the video thumbnail down there from the Library.
Click the "General" settings button and check the "Reverse" icon as seen on the screenshot below. Press "Done" to apply the changes.
"Export Video" button starts rendering the video. Video reverser will offer you to set the filename, specify the save location, output format, resolution, and quality.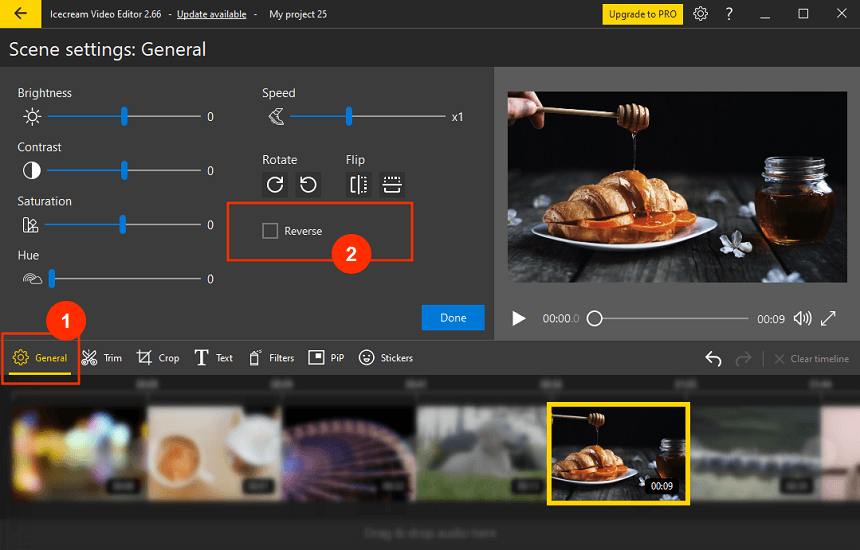 Additional features and tools of video editor
In addition to reversing video, this video editing software allow you to rotate the scenes on the timeline, adjust the contrast, brightness and saturation, set the playback speed, as well as flipping videos.
Add music to your video projects, for example a fun song or background accompaniment, before exporting the file. It is worth noting that the program has flexible settings not only for video, but also for audio. For example, you can trim the audio track just like you can trim video scenes, apply the fade-in and fade-out parameters and apply some audio effects.
In addition, you can not only put the video in reverse order, but also speed up or slow down clips and combine it with other videos. Your imagination for content creation is not limited by anything in this program.
Benefits of video reverser:
Works on all Windows computers (make sure your device responds the system requirements);
Fast video content upload and export;
User-friendly and intuitive interface, which does not require prior familiarization;
Many advanced settings and tools to not only reverse videos but create a higher quality material from scratch, too;
Free video editor;
Compatibility with all popular video formats.
Summary
Now you know how to reverse a video with the Icecream Video Editor. With its help, every user can create cool content, which can be further shared with friends, posted on popular entertainment hostings and social networks. Try all the program's advanced options to edit videos like a pro. Create cool video projects, gain views and followers.
The video speed editor is in demand for its video editing functionality. It is used to speed up video to ...
16,430
Creating videos dedicated to various important events and parties has become very popular. You can combine multiple videos recorded on ...
8,892
Creating and editing a video today may be necessary for absolutely everyone, regardless of gender, occupation, or age. After all,
9