14 Tips for Video Editing Like a Pro in 2022
Despite evolving technology that makes it possible for anyone to become a video creator, it's still very difficult to generate great content. Especially when social media is flooded with media of all kinds: short, long, professionally shot, amateur edited videos, and so on. Video editing is still one of the key determinants of viral content. That's why we've put together 14 great tips to look out for when editing video.
1. Mind the computer RAM
Some would consider this hardly video editing advice, but trust us, it all starts with your device. Applications and programs that work best and offer a wide range of features require a large amount of working memory. You'll need at least 8GB of RAM (Random Access Memory) for the most comfortable experience with such software. 16GB will give you a smoother experience with sophisticated video editing programs like Adobe Premiere Pro or Apple Final Cut Pro. However, if you don't have a lot of free space or just don't want to load it up with big programs, we have a solution for you. Try Icecream Video Editor for free, it requires only 4 GB of RAM and performs the most popular operations you might need to edit content.
2. Pick the right video editing software
There's no point in buying and downloading, say, Premiere Pro if you're not planning on becoming the next Oscar winner for best film editing. Also, most such video editing software is based on a subscription mode. So unless you have a need to use a video creation program on a daily basis, it would be a waste of money. Of course, Premiere Pro, Final Cut or Avid Media Composer offer high-quality editing capabilities. They include many presets for video color correction, effects and subtitles, as well as an ecosystem of useful programs such as motion makers, coders and more. Most of them are too complex to master in a day or even a week. Once again, let us draw your attention to a free program that will easily meet your basic needs - Icecream Video Editor.
3. Organize files
Imagine: you've shot about 300 raw clips and you want to combine videos, add effects, music, trim and cropping. Without proper organization, you will get confused with all this material on your timeline. We highly recommend changing the default file names and gathering them into appropriate folders. This tip will definitely increase productivity and make your life easier. Before you start editing videos, it's important to review all your footage and select the content you plan to edit next.
4. Set the right mood
Visual effects are certainly important. But do you know what comes first? The right music. And it's not just MP3s that can get your audience to follow you. It also applies to sounds. For example, to draw attention to a dramatic moment, you can include some intense sounds from your library. There are many sites that provide license-free music libraries, so you don't have to worry about violating anyone's copyrights. Also, always use quality headphones or earmuffs to better understand what the audience will hear when you add music to video.
5. Remember the "static-dynamic" rule
You've probably encountered videos that are so boring and completely unimpressive that they make you yawn. Or, conversely, super-fast content that made you dizzy. Both are examples of why you should remember the following video editing rule. Static footage should be mixed with dynamic footage. It's also helpful to consider the following fact: people usually lose interest after 3-4 seconds of watching the same frame. For a better video experience, you can crop one static or dynamic frame and mix them on the timeline. With our video editor it's a matter of seconds.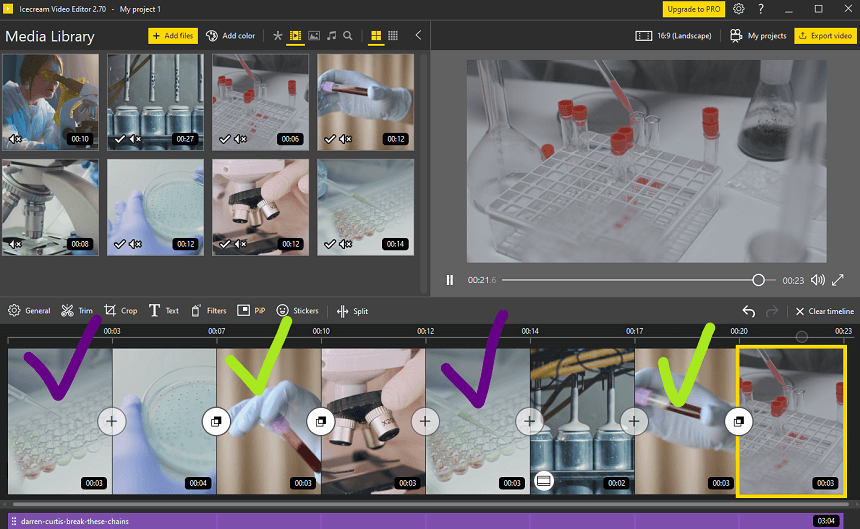 6. Personalize shortcuts
When it comes to comfort in general, shortcuts are a very effective built-in feature. They open up a whole new world of video editing for you, as they carry a number of functions within the application. For those who have decided to upgrade to professional software, such as Adobe Premiere Pro, it will be very convenient to customize the shortcuts. You also have the ability to save a preset of your desired hotkeys and carry it with you on a USB. This is very handy if you have to work on different computers and don't want to manually configure your workspace every time.
7. Color correction is the key
What you see is not always what you get. Have you ever wondered what a raw picture looked like before cropping, framing, or color correction? That's right, it was very different content. But to make sure all the scenes match each other in terms of light, saturation, hue, white balance, and more, you need to do at least some basic video color correction. Even free, intuitive video editing software like ours has some filters that you can apply to give your entire footage a more aesthetic look.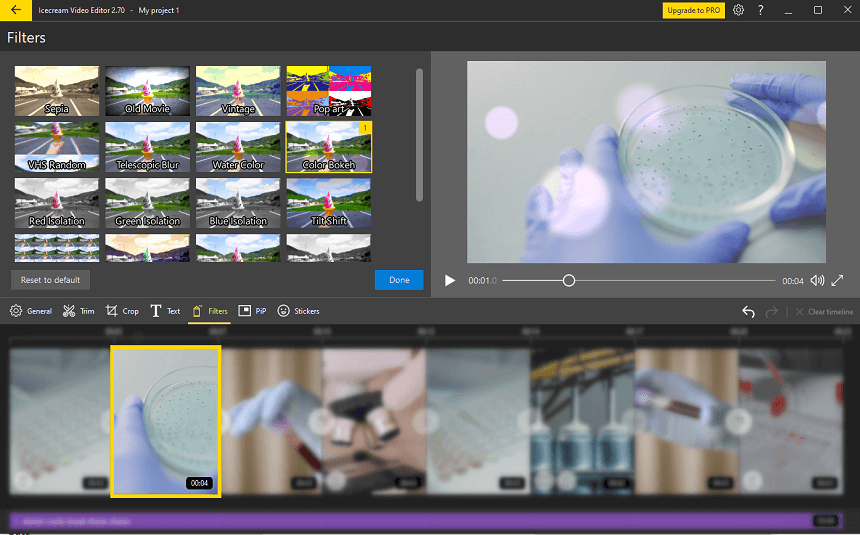 8. Add transitions
Effects can be applied not only to videos, but between the scenes, too. Today, the options for transitions are endless: from the simplest fades to complex ones like the brush effect. But don't overload your short videos with lots of transitions: either choose one and apply it to all of them, or stick to 2-3 options in the most appropriate places. Too many transitions give your content a "cheap" look. This option is present in all modern video creators, and ours is no exception - 20+ simple transition effects are available for free in the video editing software.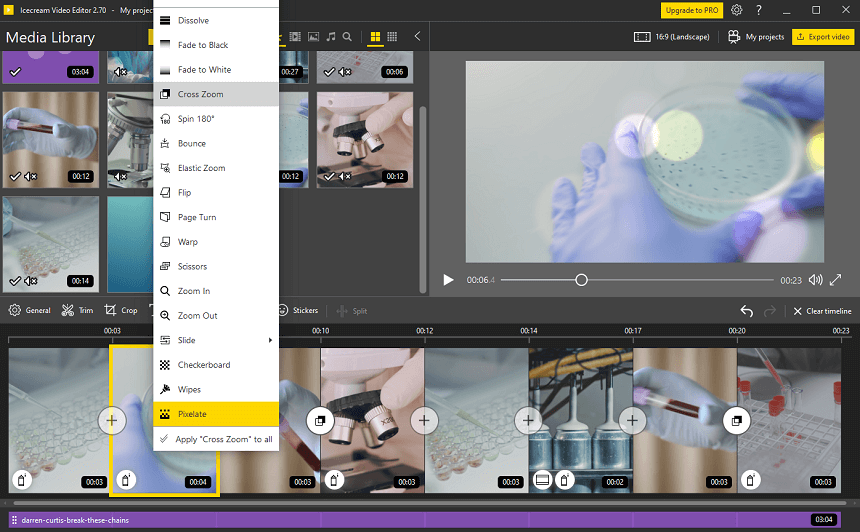 9. Crop extra parts
As basic as this part seems, many people tend to forget about it. Video editing is not just about effects, music and text. More often than not, it's a job that requires close attention to detail. For example, you need to highlight an object in the background, otherwise viewers may miss an important detail of your story. With video editing software, you don't have to do anything extra: trim your content right on the timeline. Keep the following tip in mind.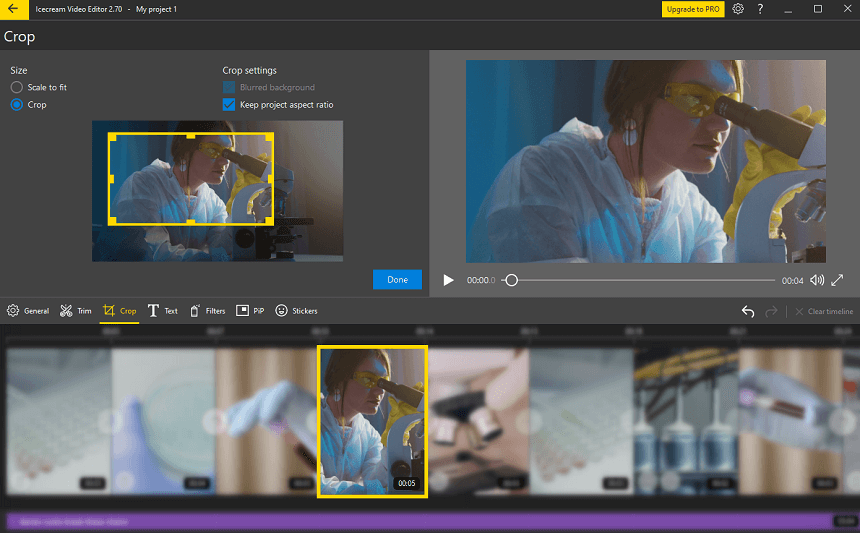 10. Keep the same aspect ratio
If you haven't planned in advance what aspect ratio you want your shot to be - portrait or landscape - this can be a problem when you start editing your video. The different aspect ratios of the shot most often indicate an unprofessional and unaesthetic approach by the creator. Respect your audience and at least cover the blank space with blurred bars. Our video maker offers such a solution, while Premiere Pro, for example, simply leaves black borders around.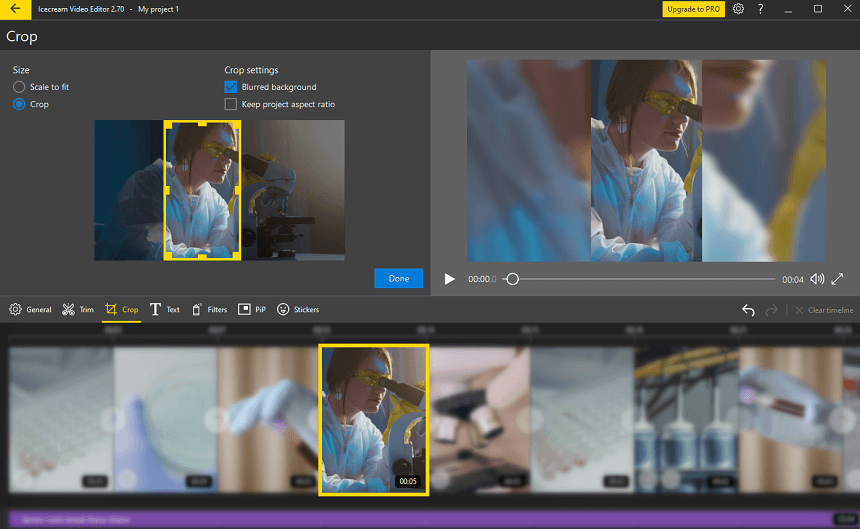 11. Always re-watch what you create
Even if you leave your computer to have a cup of tea, always start from the beginning when you return. That way you can see mistakes and correct them right away, not after you export the finished file. Overall, this habit is very useful and increases your productivity. A good video editor is not all you need to create great content.
12. Work with one project at a time
The main rule of video editing like a real professional: focus on one fragment on the timeline. Don't edit audio and video at the same time, or apply transitions and effects. This will lead to mediocre video quality and make you lose all focus. Quietly start with music and sound effects. Why? The answer is simple: the audio comes before the visuals. It may seem shocking at first, but we guarantee that once you start following this rule, your content will go to the next level.
13. Add text and graphics
In the year 2022, the question of how to add text to videos is no longer a puzzle. You can download easy-to-use applications such as CapCut to insert any words or subtitles. However, these programs often lack a variety of placement and customization options. There are special presets for more complex programs, but they can be either free, which are hard to find, or expensive. Either way, you can make beautiful content by adding text to video as well as some stickers right in our video maker.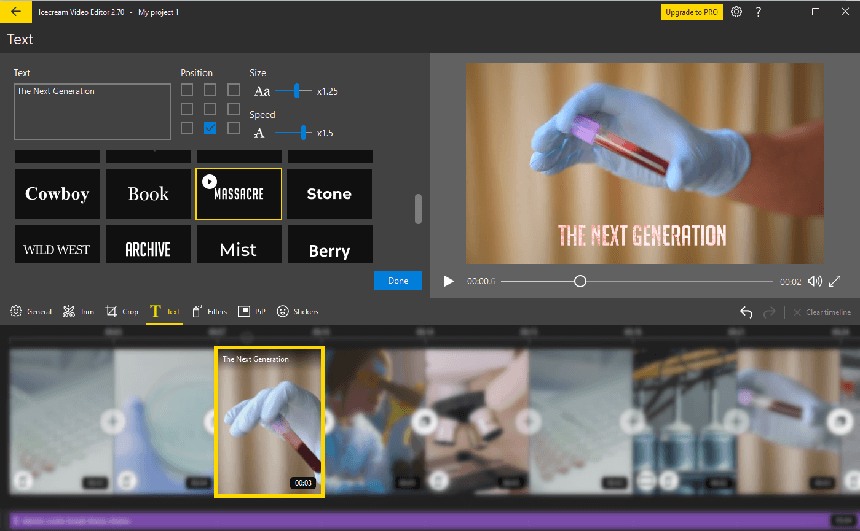 14. Save copies
Another thing newbies and even amateurs forget: get in the habit of making multiple backups of the final version. Once you've finished working in the video editor, export the content to your computer, upload it to any cloud storage of your choice, or choose another way to back it up. That way you won't lose anything, even if your computer crashes.
Bottom line
In this article, we've covered 14 brilliant video editing tips that we hope many people will find useful. From a practical point of view, you don't have to learn all the terms on this list to become a better video editor, but a fundamental knowledge of these concepts can help you master your skills and become a true professional.
We have all known situations when you record a beautiful and picturesque scene and suddenly there's a random noise or ...
15,007
Most users are accustomed to working with the iMovie video editor, which is only compatible with macOS. If you work ...
9
Recording a video might be a challenging task considering that it's not possible to retake what was captured. That's why,
16,382