Best Free Video Converters
Video converter is a popular type of software to convert video files to other formats. Such programs are used by professional editors in studios, bloggers, lifehackers, ticktockers to process their videos, novice users to change the file extension. Thus, video converter is a universal software for everyone, regardless of the field of activity, availability of knowledge and experience.
There are enough programs on the Internet to change the video format. However, not all of them are free, have a sufficient set of tools and offer wide settings to satisfy all user needs. Today we have prepared for you the top 5 best free video converter program that you can rely on.
1. Icecream Video Converter - the best free video converter for Windows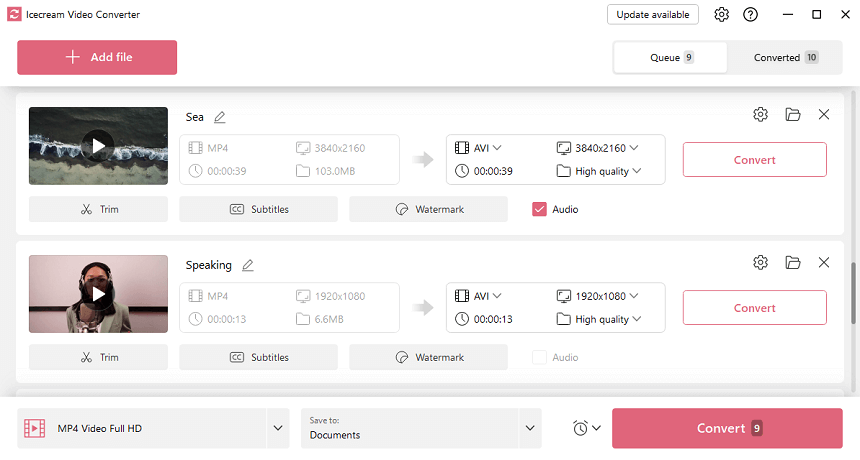 Powerful and versatile video converter to process files in a bulk. It is capable of converting multiple queued files and does not require technical skill from the user. Select from multiple presets to change the video resolution along with the format. Its large selection of output formats will be greatly appreciated by social media users, motion designers, storyboarders, hosters of their own channels, and travel-bloggers. The freeware will also be useful to ordinary users who want to convert their family video archives into more modern formats.
Pros
Free video converter compatible with Windows 11, 10, 8, 7;
Simple and intuitive interface in different languages, will be understandable to everyone, even novice video editors with minimal knowledge in this area;
Video file converter that is absolutely free, it doesn't impose advertising or any other third-party content;
Individual adjustments for screen resolution as well as sound and video stream quality;
The ability to add subtitles;
All popular video formats are supported: MP4, AVI, MKV, 3GP, WMV, MOV, M4V, MPG, M2TS, MTS and others;
Does not require Internet connection, so is capable of working offline;
In addition to working with video data, this is a video to MP3 converter, too;
Add watermark before the video conversion.
Cons
Works only on Windows OS only.
2. Freemake Video Converter - video converter that supports large number of formats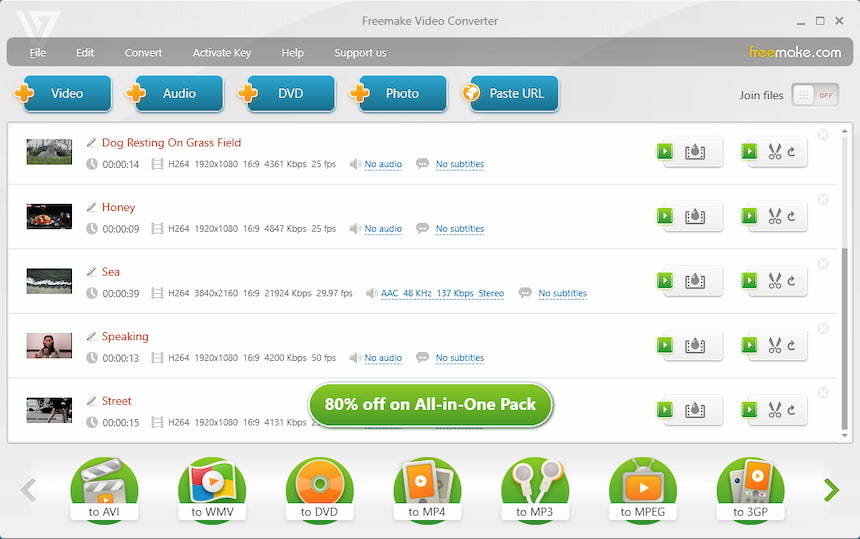 This is a good video converter with a wide range of supported video codecs formats. The software is also capable of adding third-party audio and creating slideshows, which makes the program more versatile. It is distributed free of charge, but this version puts its own watermark at the end and at the beginning of the resulting video, and this sometimes causes difficulties. You can not only convert video, but rip DVDs and do some additional video editing like trimming, rotating and merging.
Pros
Wide range of supported video format: from common AVI and MP4, to the rarely seen Xvid and TS;
The ability to convert DVD and Blu-ray discs to more modern formats;
Free video converter that can work with online video by URL;
Friendly and clear interface.
Cons
The video converter's free version leaves a watermark at the beginning and end of the file;
Persistent offer to purchase the PRO-version of the software.
3. VSDC Free Video Converter - feature-rich video format converter
The main function of the program is superficial editing and conversion of video files to other formats. The software supports all common formats: from mobile 3GP and 3G2 to large-volume DVDs. It comes pre-installed with all the codecs necessary for operation, so users do not have to look for and install additional software. While it has a lot to offer video conversion-wise, using it is far from being convenient.
Pros
The video file converter is able to merge several videos into one file, while converting them into a single format;
The built-in editor allows you to edit the data after conversion, which is quite convenient;
Compatibility with all versions of Windows;
Use of modern processing algorithms speeds up the work of the utility;
Creating your own profiles or using the standard ones increases the program usability.
Cons
Compatible with Windows only;
Free video converter with outdated interface
Visit VSDC Free Video Converter's website
4. Format Factory - cross-platform video file converter
This is a free video converter developed for Windows and MacOS operating systems. The software is used to convert video files to other formats and to compress large videos, too. In addition, the program allows you to merge several clips into one movie, copy a DVD or Blu-ray disc to your PC. It differs from other video converters in its ability to convert photos and audio. That makes this converter a universal tool for working with media files.
Pros
Simple interface with flexible settings allows even beginners with minimal knowledge to understand the settings;
Constant software updates make the program compatible with the major modern data formats;
Does not require high technical characteristics of the PC and can run even on old computers and laptops;
High performance;
Free video converter.
Cons
Incomplete set of video formats.
5. Convertilla - basic free video converter
A very simple yet effective program for Windows OSs with a standard set of tools. It can be used exclusively for the conversion of video files. Compatibility with all modern formats makes this software a universal tool to convert video files when performing simple tasks, as the toolkit does not have advanced functions and a large selection of settings.
Pros
Clear and user-friendly interface allows you to solve simple tasks without prior training;
Fast operation even on outdated PCs and laptops;
Compatibility with most video formats, as well as data conversion presets for mobile devices and gaming consoles.
Takes up little space on the hard drive (about 20 MB), which may be relevant for low-power computers.
Cons
Video converter with modest interface and functionality.
Here we have covered the most popular free video converters available today. It's up to the user to choose the one he will use. It can be a powerful freeware like Icecream Video Converter with flexible quality settings and additional features for solving complex tasks or a simple small program Convertilla for routine work on media file conversion.
Changing between video formats is a rather complicated process, especially for novice users. This is due to a large number ...
415
What do you need a video to audio converter for? For example, there is a music video with a cool ...
2,851
Recording a video might be a challenging task considering that it's not possible to retake what was captured. That's why,
16,971