How to Extract Audio from Video
Sometimes, a video part of a file is not as important as an audio one. In this case, it makes sense to extract audio from video because it makes your file much lighter and helps you save on memory. Besides, it makes it possible to import the track to your iPod and listen to it on the go. Icecream Media Converter can help you with ripping audio from video in 4 easy steps.
1
Download and install the program
Download Icecream Media Converter from our website and run the installation Wizard. Follow the guidelines to install the program on your computer. The process takes about 30 seconds and on the completion you can perform multiple actions within a single application. Launch the application and you are ready to go!
You can work with YouTube URLs or actual files. To import a video for conversion, click on the "Add file" or "Add URL" button in the main window to open "Add file" or "Add URL" working panel.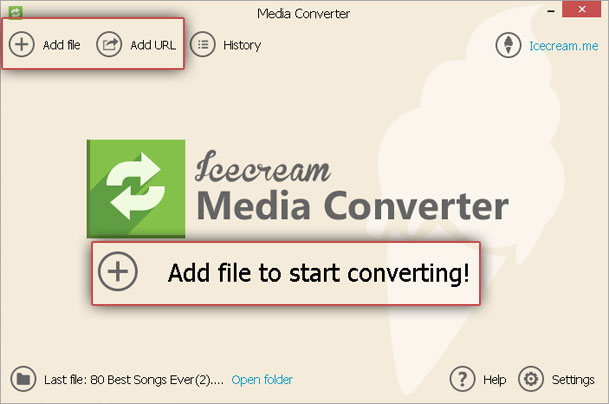 If you are working with a file from your computer, single click on the Add File line in the panel to open the explorer. Find the desired file on your computer and import it to the program. Such video files formats as AVI, MP4, VOB, 3GP, MKV, FLV, MPG, MPEG and even more can be perfectly processed by this program. Here is a little trick: you can filter the files by type to quickly find a necessary one on your computer. So, simply select the "Video files" option and the program will show you only the folders and video files that you have on your computer.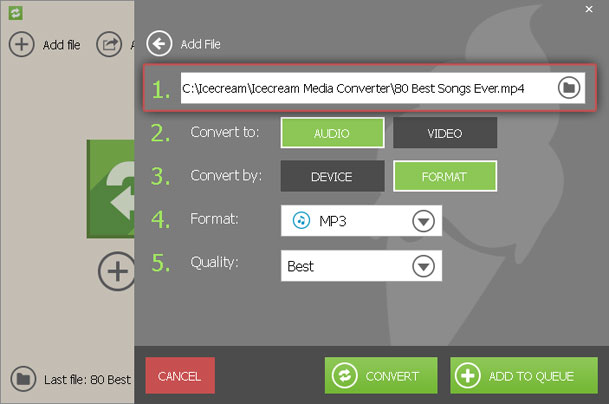 If you want to work with YouTube URL, simply copy a link to your video from YouTube address line and paste it into the suggested box.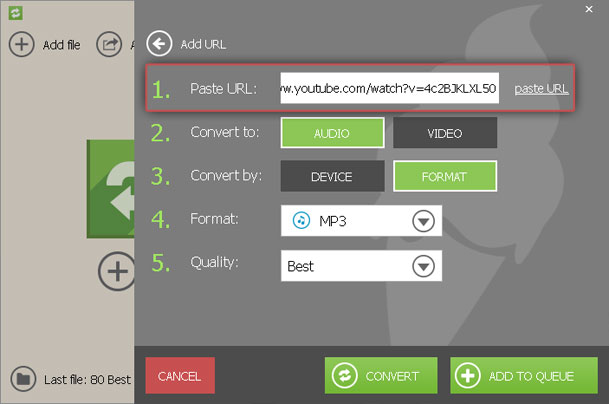 3
Configure output file settings
Configure Type Settings. Since you want to extract audio from video, you want to select "Audio" option in the "Type Settings" line.
Set the default conversion method. You can either choose "Format" in the "Convert By" line to convert your file to MP3, WAV, FLAC, OGG or other audio formats, or convert by device in case you don't know what exact format you need.
Choose format or device. Open the dropdown menu and scroll down to find the desired format or type of device. You will be suggested to make your audio file compatible with such devices as BlackBerry, Nokia, iPhone, Android, Xbox, PSP and others. Double check you've chosen the right model.
Choose quality (for "Format" only). You can choose from 4 types of quality: Best, Good, Average and Bad. The choice depends on the quality of your input file and your personal preferences. Needless to say, files of higher quality come in larger sizes.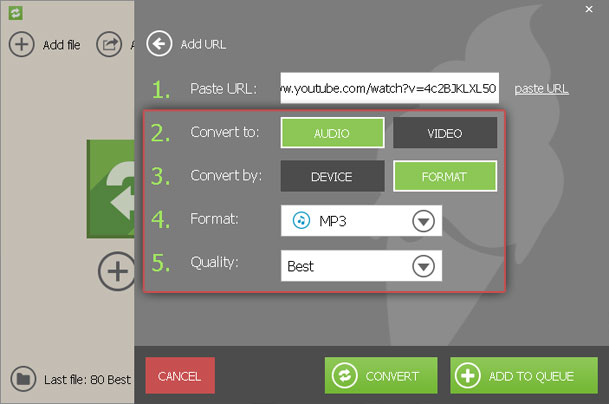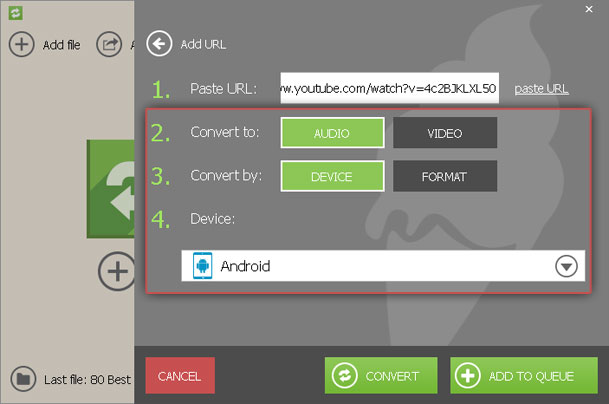 4
Start extracting audio from video
To enjoy the benefits of single file conversion press the button "Convert" that is located in "Add video" panel and the software will start the process right away. Icecream Media Converter also supports batch conversion, so in case you want to work with several files at a time, just click on "Add to Queue" button. Then, hit the "Add file" button again to import more files to the queue. Once you're all set, hit the "Convert" button in the queue view to initiate the conversion. The duration of the process may vary depending on the size of your files, but usually it doesn't take too long. When the conversion is finished, you will see the following message: "Conversion complete". After that, you can open your audio file in the containing folder.