How to Search for a Word or Phrase in a PDF Document
Documents in PDF format are supposed to be viewed only. Each and every action that somehow changes the PDF file requires a special program that has a specific feature. The same applies to searching for a word in the PDF: it is not provided by most of the native PDF viewers. Luckily, Icecream PDF Editor has the "Search PDF" option to enable you to search for words or phrases in a document. Read below for a simple tutorial on how to search for a word in a PDF using our PDF editing software.
1
Install Icecream PDF Editor
In order to be able to use the software you need to download and install it. Follow the steps offered by the setup wizard and run the program to proceed.
2
Open the PDF file you want to search for word(s) in
Hit the "Open..." button in the center of the window or in the drop-down list of the "File" menu to open Windows Explorer and browse the folders of your computer for the required file. The drag and drop mechanism is perfectly supported by the program for opening PDF files.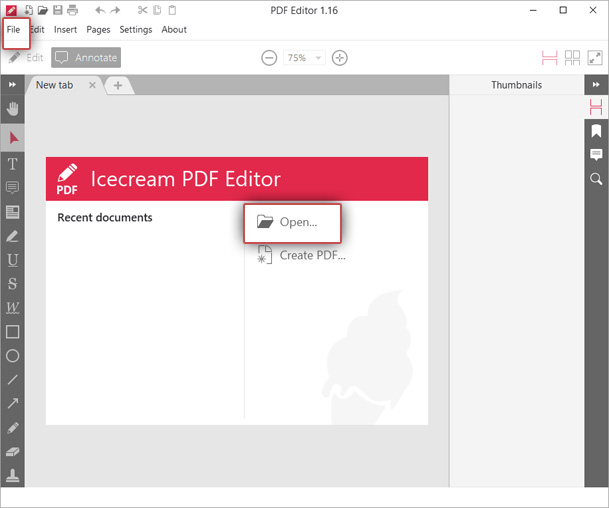 3
Turn the navigation bar into "Search PDF" mode
Activate the "Search PDF" mode of the right-hand navigation panel by clicking the magnifying glass icon.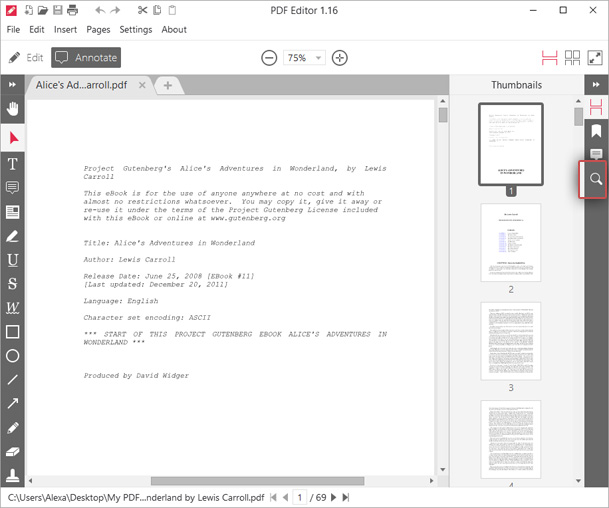 4
Search PDF for words or phrases
Now it should be really easy to find what you are looking for. Type in a word or a phrase in the "Search words or phrase" field, select if you want to match the phrase and match the whole word. Hit 'Enter' on the keyboard or click the magnifying glass icon to the right of the search form to initiate the word search in the PDF. The results will be listed below, and you can easily navigate to them.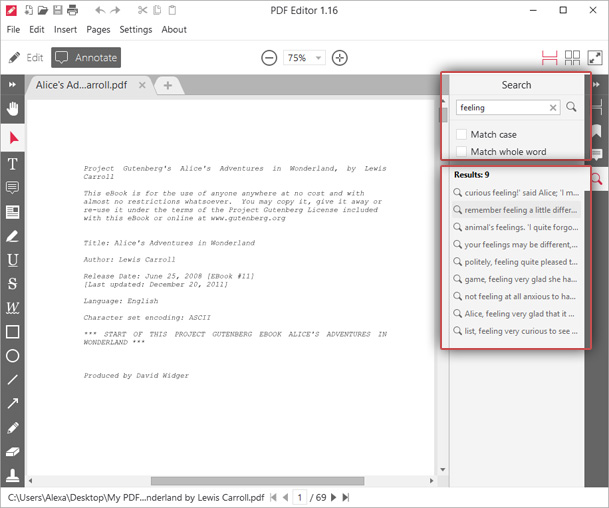 The "No results found" phrase will be shown if no results matching the search word or phrase were found within the whole document.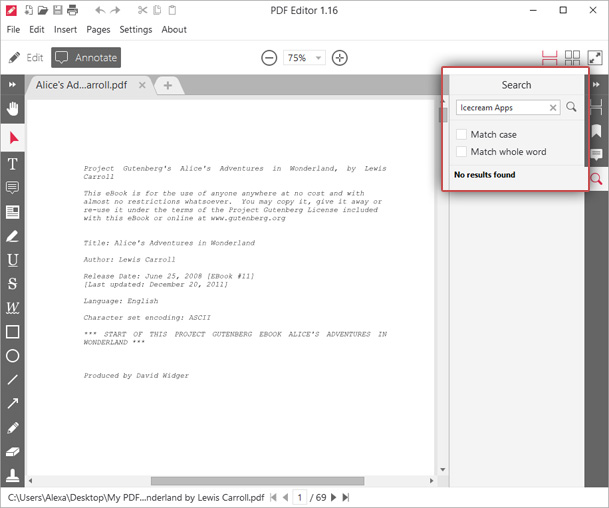 Icecream PDF Editor is a simple yet powerful PDF editing software that not only provides search PDF functionality but also enables you to edit text and annotate PDFs etc.
Many users often need to insert a page into a PDF document. For example, if they need to expand the ...
5
Most users who work with PDF documents are familiar with the difficulties that arise when processing files of this format.
5
Users who work with digital documents know how difficult it is to find a convenient and functional PDF editor to ...
0