How to Convert M4A to MP3
M4A is an unprotected AAC file that you often deal with when download music from iTunes. Needless to say, M4A is less popular and widespread than MP3, and if you are having problems with opening and playing it on your device, you can simply convert it to a more usable format and forget about any difficulties.
Icecream Media Converter is a powerful tool that deals with all sorts of conversion tasks, including M4A to MP3 conversion. This step-by-step guide will demonstrate you how to use Icecream Media Converter to change your file's extension from M4A to MP3.
1
Download the application
The first step you should take is to download Icecream Media Converter and install it. Click on the "Download" button on this site and save the installation file on your PC. Proceed with the setup process by following the installation wizard. Finally, double click on the program's icon to open it and skip to the actual conversion.
Start importing your M4A file to the program by clicking on the "Add file" (upper left corner) or "Add file to start converting!" (center of the main window) buttons. Both of them will open "Add file" panel. Click on the white area with a symbol of a folder to open your PC's explorer where you need to select M4A file you wish to convert to MP3 format. Choose to show audio files only to narrow down your searches.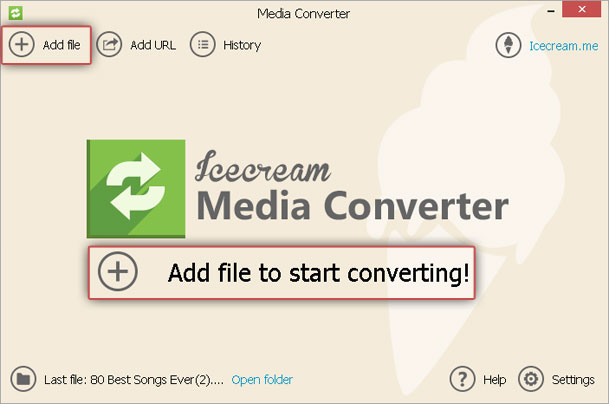 Once you found the file, select it in Windows explorer and press "Open" to import it to Icecream Media Converter.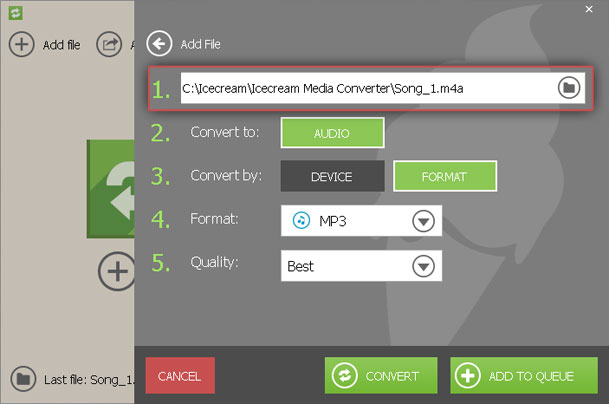 3
Configure output file settings
Convert to. Here click on the "Audio" button since the outcome format MP3 is and audio one.
Convert by. You already know which format you need, so click on the "Format" option.
Choose format. Click on the box to open a dropdown menu and select "MP3".
Choose quality. There are 4 options: "Best" (as high as the one of original), "Good" (a little worse than the original quality but still pretty decent), "Average" (significantly lower quality and smaller size), or "Bad" (poor quality and the smallest size possible). Choose one that meets your requirements.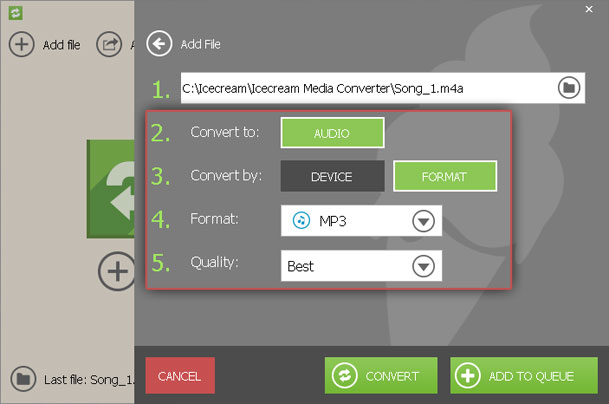 4
Start M4A to MP3 conversion
If you don't need a bulk conversion, simply press on the "Convert" button at the bottom right of the currently opened panel to convert M4A to MP3 audio format. If you want to convert more files, press the "Add to queue" button and this file will be added to a queue. Follow the same steps to add more files to the queue. If you want to delete some files from the list, click on a tiny recycle bin icon corresponding to the needed file that you want to delete. The "Clear queue" button in the bottom left corner will delete all the files from the queue. Press "Convert" when you are ready to convert M4A to MP3.
You will see a progress bar for the entire process in the bottom of the window and separate progress bars for each file in the queue. You can pause/resume the process or cancel it by using the corresponding controls down below.
When the conversion is over, you'll see a new window with a quick report and the "Open folder" button – click on it to view output files in the folder and quit the program.