Best Free Screen Recorder: Top Choices of 2022
Screen recording comes in handy when creating video tutorials, recording your own personal tips and let's plays, saving important moments of lectures and webinars. There are many free screen recorder tools on the Internet that help users cope with video capture tasks. However, not all of them have the same features, clear interface, built-in additional tools and features.
Today we're going to talk about the best free screen recorders of 2022 that can record your desktop,and we will discuss their functionality and the options they offer.
1. Icecream Screen Recorder - the best free screen recorder for Windows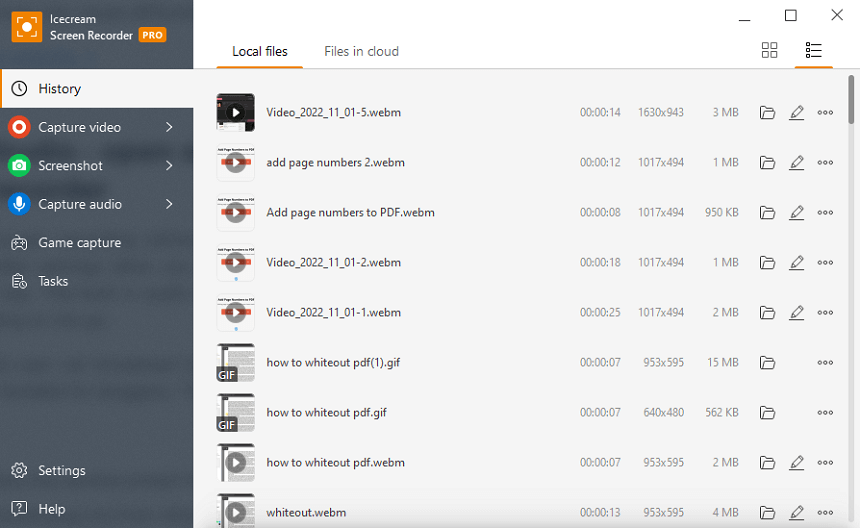 A very handy and easy-to-use program to screen record. It can be used both on a daily basis and for one-time use. Suitable for beginners and professionals, online course creators, teachers and educators, gamers and bloggers.
The functionality of the screen recording software allows you to record whatever is going on on your desktop, capture audio streams (both microphone and system sounds), record mouse cursor and highlight the clicks and set your own watermark on the resulting content.
Hotkey settings help the user create better videos without pop-up menus, and the webcam capture feature allows you to turn on the camera before recording and comment on what's happening while recording.
Make annotations during screen recording using the various tools in the Draw panel and trim the video. You can also upload videos by URL for quick sharing. Upload directly to Google Drive, Dropbox, and YouTube is also supported.
Advantages:
Free screen recorder with convenient and concise interface;
Flexible settings for sound quality, screen resolution, file format, etc. help to create a more accurate clip for specific user needs;
Upload videos for easy sharing;
Impressive number of options;
Scheduled screen recording is available.
Disadvantages:
Works on Windows OS only.
2. Bandicam - free screen recorder widely used for game recording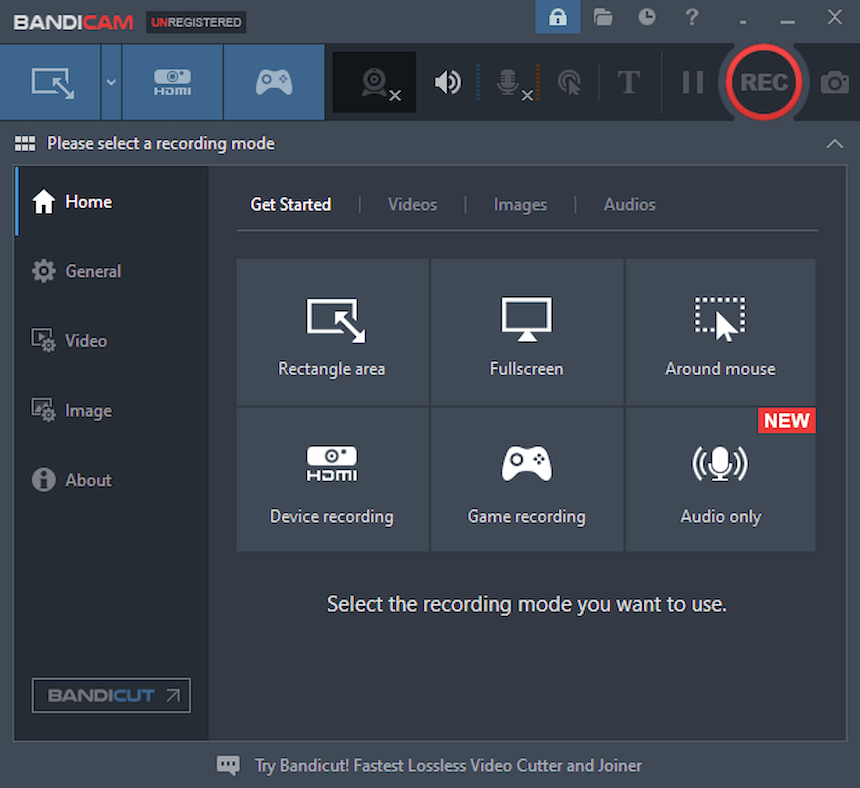 This free screen recorder for PC allows you to record the entire screen or a specific area of it. In addition, you can record video from the webcam as well as sound from the microphone. Annotations are available along with many useful options for screen recording.
Game mode saves gameplay and video player recordings using DirectX. The menu displays the timer and the approximate file size, which is very important for computers with a small hard drive. The developers of the program have also provided a function to capture video stream from a device connected via HDMI port.
Advantages:
Simple and intuitive interface with flexible settings;
Screen recorder with a wide selection of sources that can be overlaid thereafter;
Codec and bitrate settings are useful for professional bloggers, designers and other media creators to make better content.
Disadvantages:
Free trial version puts a watermark at the top of the screen and also limits the recording time to 10 minutes;
Some settings may cause difficulties for novice users.
3. OBS Studio - open source and thus totally free screen recorder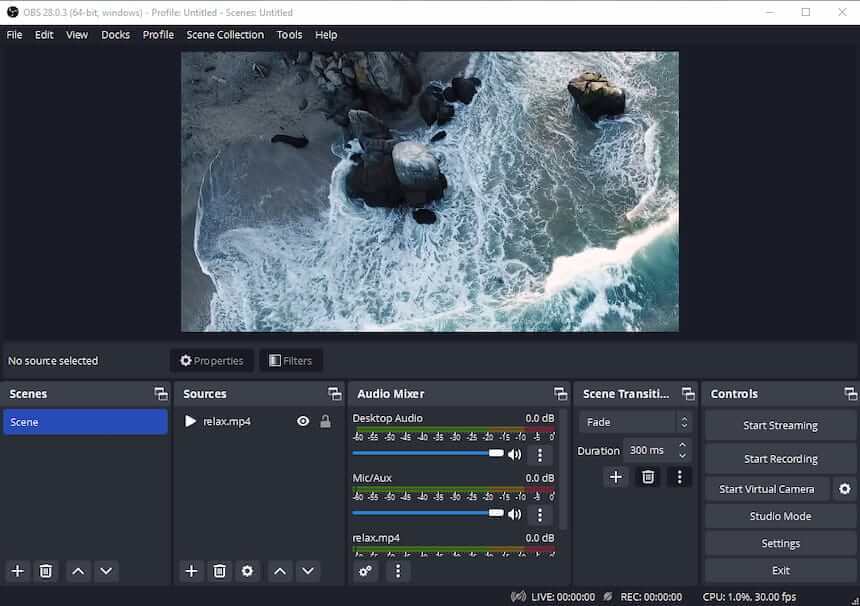 Easy-to-use screen recording software that works on Windows, Linux and Mac operating systems. Flexible settings allow you to select a video source, adjust the audio track, and insert a color key. The built-in audio mixer and video editor make it a great option for quick screen recording on the go.
In addition, the user can broadcast live to their channel on social networks or entertainment hosting sites. Suitable for bloggers, TikTokers, gamers and other social media influencers.
Pros:
The software has several preset filters;
Ability to install plug-ins from other sources;
Open source code allows users with sufficient expertise to improve the screen recorder as they will;
Suitable for video streaming;
Great audio track adjustment functions.
Cons:
Most inexperienced users will find the dark interface frustrating;
A sufficiently high performance computer is required.
4. Camtasia Studio - free screen recorder for Windows and Mac
Screen recording software that allows you to make a video captures of a fairly high quality. Has a built-in editor that is integrated with PowerPoint. Allows you to impose video effects on the created content, edit transitions, add an audio track and much more.
Flexible settings will help the user to improve their video in a few steps. Suitable for presenters who want to record webinars, trainers, and teachers.
Advantages
Screen recorder with wide functionality;
Ability to capture video from a monitor or connected devices;
Works on Windows and Mac;
Large library of video effects;
Allows you to create interactive elements.
Disadvantages
To view the recorded video, you need to register or buy a PRO account;
Longer data processing even on modern computers.
5. AVS Video Editor
With this free screen recorder for PC, you can record the entire screen or a specific area of it, as well as capture a video stream from other devices. There is also a built-in small editor that allows you to edit clips by inserting stickers, patterns, and other effects.
In addition, the video recorder is capable of overlaying text, audio mixes, voice stream, which allows you to make the video of higher quality. Suitable for video editing of already filmed videos, as there is an import function. Suitable for webinar presenters, bloggers, social media personalities.
Advantages
Captures video stream from different devices;
Has sufficiently flexible settings and a large library of effects;
It is possible to use chromakey to change the background;
Screen recorder with video editing tools.
Disadvantages -- Free version of this screen recorder adds watermark to videos; -- Large selection of settings may cause some difficulties for newbies.
Conclusion
These are the most popular free screen recorders you can find on the market today. All of them have different functionality and thus different audience. In any case, it is up to the user to decide which program to choose for the task at hand.
There are quite a lot of screen recording software for Windows on the Internet with the function of capturing the ...
10
To show off your outstanding gaming skills one need to record gameplay to be able to share the recording. Since ...
15,475
Most online meetings, conferences, webinars and even dates have become commonplace in remote work and study formats. Many people use ...
5